Why baseball still matters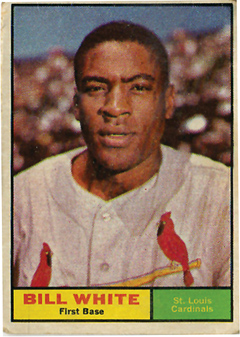 The color of a man's skin can never define the person within
By Kenneth Amos
Special
Essay
Baseball, like no other endeavor, captures our imagination and paints our heart -– even if we are incapable of realizing in the moment how simple memories someday might impact us.
Whether from a red state or a blue state, the political leanings, race, religious persuasions and differences that otherwise might define the person sitting next to you in
Major League
ballparks are of little relevance.
And, for those who populate the diamonds, only the predominantly red or blue on their uniforms – and a few shades of orange, gold, teal, purple and black – really matters.
This son of Missouri was seduced as a fourth-grader by the
St. Louis Cardinals
' vast radio network.
Harry Caray
and
Jack Buck
laid out the team's exploits that included an All-Star infield of
Ken Boyer
,
Dick Groat,
Julian Javier
and
Bill White
, and a seven-game
World Series
victory over the
New York Yankees.
A newspaper ad soon announced the first-baseman of this group would be making a weekend appearance at the
IGA Foodliner
— the primary grocer for my hometown's 12,000 farmers,
brick-plant
laborers, moms and kids.
It was the winter of 1964, the same year President
Lyndon Johnson
's burgeoning
Great Society
had outlawed most forms of segregation. I was unaware.
My father was one of those dust-covered laborers. On weekends, he tended the soil around our house and kept busy with manly garage projects. One Saturday, however, he chose to nurture his son's desire to meet a bona-fide Major Leaguer.
I had envisioned fans would be winding through every aisle. Instead, I found Mr. White — no more than 30 years old — standing stiffly at the front of the store with few townsfolk nearby. Awed by his towering frame, I approached cautiously. He bent to reach for my hand, which was soon swallowed within his own dark, calloused hand.
Speaking softly while autographing a photo, the burly ballplayer said to this kid, "Thanks for coming. And, you've got a good dad for letting you come see me." I couldn't begin to appreciate the nuance of his words.
In 1964, racism remained rampant although nearly 20 years had passed since
Jackie Robinson
obliterated baseball's color barrier. Only a decade had passed since
Tom Alston
became the first "Negro" to wear the birds on the bat.
While some fathers probably chose to keep their sons home that day, my dad was there for me. Together, we cheered the next season for the humble man we had met that day. After he was traded, we continued to celebrate the winning ways of Hall of Fame teammates
Bob Gibson
and
Lou Brock
.
Like boys that age, I wanted to be a ballplayer. When that door closed, I became a broadcaster and an editor.
Bill White
, the classy baseball player, became a broadcaster and president of the
National League.
Our all-too-brief encounter helped me first realize that the color of a man's skin can never define the person within.
My own interracial family agrees.