Deconstructing Shawn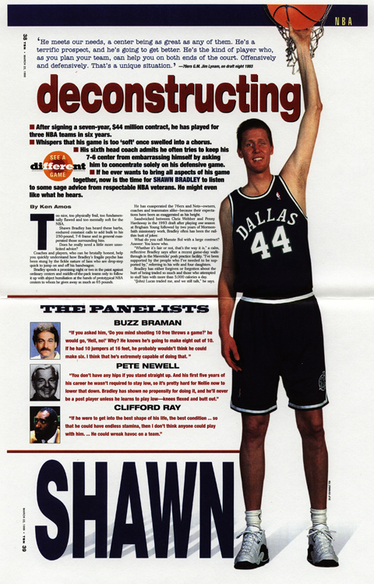 BUZZ BRAMAN
"If you asked him, `Do you mind shooting 10 free throws a game?' he would go, `Hell, no!' Why? He knows he's going to make eight out of 10. If he had 10 jumpers at 16 feet, he probably wouldn't think he could make six. I think that he's extremely capable of doing that."
PETE NEWELL
"You don't have any hips if you stand straight up. And his first five years of his career he wasn't required to stay low, so it's pretty hard for Nellie now to lower that down. Bradley has shown no propensity for doing it, and he'll never be a post player unless he learns to play low —knees flexed and butt out."

CLIFFORD RAY
"If he were to get into the best shape of his life, the best condition ... so that he could have endless stamina, then I don't think anyone could play with him. ... He could wreak havoc on a team."
By Ken Amos
Senior Editor

THE SPORTING NEWS
After signing a seven-year, $44 million contract, he has played for three NBA teams in six years.
Whispers that his game is too `soft' have swelled into a chorus.
His sixth head coach admits he often tries to keep his 7-foot-6-inch center from embarrassing himself by asking him to concentrate solely on his defensive game.
If he ever wants to bring all aspects of his game together, now is the time for
Shawn Bradley
to listen to some sage advice from respectable NBA veterans. He might even like what he hears.
Too nice, too physically frail, too fundamentally flawed and too mentally soft for the NBA
Bradley has heard these barbs, endured constant calls to add bulk to his lanky 250-pound frame, and in general exasperated those surrounding him.
Does he really need a little more unsolicited advice?
Coaches and players, who can be brutally honest, help you quickly understand how Bradley's fragile psyche has been stung by the fickle nature of fans who are drop-step quick to jump on and off his bandwagon.
Bradley spends a promising night or two in the paint against ordinary centers and middle-of-the-pack teams only to follow it up with abject humiliation at the hands of prototypical NBA centers to whom he gives away as much as 65 pounds.
He has exasperated the 76ers and Nets--owners, coaches and teammates alike--because their expectations have been as exaggerated as his height.
Sandwiched between
Chris Webber
and
Penny Hardaway
in the 1993 draft after playing one season at Brigham Young followed by two years of Mormon-faith missionary work, Bradley often has been the rail-thin butt of jokes:
What do you call
Manute Bol
with a large contract? Answer: You know who.
"Whether it's fair or not, that's the way it is," a calm, reflective Bradley says after a recent game-day walkthrough in the Mavericks' posh suburban Dallas practice facility. "I've been supported by the people who I've needed to be supported by," referring to his wife and four daughters.
Bradley has either forgiven or forgotten about the hurt of being traded so much and those who attempted to stuff him with more than 5,000 calories a day.
"
(John) Lucas
traded me, and we still talk," he says. "
(John) Calipari
traded me, and we still get along well. I still see him before and after our games. I just don't see the sense in going through life creating bad relationships."
In early 1997, Dallas coach and G.M.
Don Nelson
pressed Calipari to include Bradley in a nine-player trade, and Nelson thought he had secured a lone star for the Mavericks' sagging fortunes.
"We tried to do some creative things with him last year," says assistant coach and Mavericks first son
Donn Nelson
. "Instead of pounding and going against a guy, (we were doing) more releasing of contact, spinning and using his agility against bulkier guys. But we had inconsistent success with it."
But this season, the Nelsons had another strategy. They would remove the offensive burden from Bradley's shoulders--both candidly admit--to lessen the odds of him being embarrassed by those prototypical behemoths.
"In a nutshell, with him, what we've tried to do is to totally de-emphasize the offense," Donn Nelson says. "We know he has a shot-blocking skill. We know he's an intelligent defender. We know that if he puts his mind to it he can run the floor and get back defensively, so we've tried to emphasize those things and de-emphasize the post-ups.
"We're using him more as a feeder, a low-post passer. And he's not in situations where a guy knocks him off balance, he looks bad, his confidence goes low and the crowd gets on him. Any guy who is that tall and has that kind of body is sensitive ... so we don't need to add to his frustrations by putting him in awkward situations."
Although his minutes and offensive numbers are down, Bradley insists he does not view the coaches' motives as demeaning. Rather, he sees this as a mining point toward his maturation as an NBA player.
"I'm feeling very comfortable with the role that I've been put in this year," Bradley says. "There's not as big of an emphasis on scoring for me as there is on defense, blocking shots and going after rebounds. It's really lifted a weight off my shoulders. I've been able to go out and be more comfortable and have a lot of fun. My confidence is higher, my understanding of the game is higher, my maturity level is more."
He also creates complex matchup problems.
"(Bradley) creates a significant problem for us," Spurs coach
Gregg Popovich
says, "just because he's so damn tall. You know you're not going over this guy. He looks skinny, he looks weak and all that, but 7-6 and long is 7-6 and long. We spend a lot of lime with our bigs talking about isolating him or going all the way to the rim but not going over him."
As testament, Bradley is averaging nearly four blocks per game and has been doing the little things asked of him--changing shots, getting more taps on the offensive boards, grabbing and swatting rebounds, running the floor and being a valuable source of misdirection.
Yet, entering this week, the Mavs were off to another rugged start. And after a recent home-court loss to the Spurs, Don Nelson was anything but effusive when the subject was Bradley, who had picked up three fouls in the game's first nine minutes and never again was a factor.
Sumped in a chair staring at a can of Budweiser within arm's reach amid the self-imposed isolation of his office, Nelson softly offered, "We just don't want to see him embarrassed out there."
Soul searching
It has been a long, strange journey for Bradley.
"This is my sixth head coach in as many years," he says. "There's been a lot of different systems and a lot of different ideas out there; not to mention the assistant coaches and the other guys. I've always tried to be coachable. I'll try to utilize my strengths within that system.... There also might be things on the table that might not be so good, but I try to take the good and learn from them.
"The first couple of years of my career, I was not ready by any means to carry an organization; I'm still not. I'm the first to admit that. I just wanted to come into the league and learn at the league level. It's been other people who have said, `He's gonna be this or he's gonna do this.' I always thought, this is what I have, teach me what I need to become."
But that kind of thinking might sound like a broken record.
"Shawn has to just stay confident in his own abilities," says Dallas forward
A.C. Green
, who admits Bradley has been playing "tenacious basketball" this season. "So many guys have either given up on him or labeled him a certain type of player."
But after the Spurs debacle, Green sat in front of his locker and said Bradley can ill afford to still view himself as a project. "He can't see himself as a project player," Green says. "Shawn's been in this game long enough now; he needs to start coming into his own. I see it as a challenge to him, to become more of a man and accept that role and not listening to so much about the past."
Green, whose role is that of part-time floor general, cheerleader and stabilizing influence in the locker room, quickly adds, "Everyone needs a friend. Everyone needs someone to step up to get in their face, like it or not, to tell them the truth. That's the only way a lot of people respond as human beings and as players."
Bradley knows he may respond a bit differently than some players.
"I'm a person you've got to approach in a mental way first," he says. "If you can do that with me, then the other stuff will come."
He is not making excuses when he states that he hasn't exactly been surrounded by a Jazz-like supporting cast at any of his NBA stops.
"The team that I've been on that's had the most wins was only 30, and that's not a very good team when you're looking at an 82-game season."
Teammates sometimes don't look for Bradley in the offense, because he lacks a suitable go-to move or counter move, and they often don't always deliver the ball high enough to give him a successful opportunity to handle it.
"I certainly don't want to freeze Shawn out," says Mavs point guard
Steve Nash
. "If he improves offensively as well as he has been improving defensively, he could be a great player at both ends of the floor. I want to keep giving him a chance. If he's open or in a position where he can help us offensively, definitely, I'm going to go to him."
Yet Bradley has a cautions mentality and might be sending a message to Don Nelson when he says, "We've got good young talent and hopefully we can grow together like the
Chicago Bulls
grew together, like the
Utah Jazz
grew together. ... You look at teams that are consistently good throughout the years and they're teams that have really stuck with their people over the long haul."
Mixed emotions
After a night earlier this month when Bradley's linescore against the Clippers read 10 points, seven rebounds and nine blocked shots, Donn Nelson noted the "little things" the center had done that helped in the team's victory.
An aw-shucks grin creases Bradley's face as he allows this much:
"There's a lot of things the stats don't say," he says. "Someone who watches the game and knows the game understands there are a lot of variables that don't show up in those stats.
"I understand there's a certain type of energy that I bring to the game, a certain kind of confidence my teammates can have so they can take a shot at an open ball, or play a little overaggressive on defense, because they know they've got support behind them."
Bradley has a dream--improbable as it might sound--to have a role on the 2000 U.S. Olympic squad.
"I would love to play on the Olympic team," he says. "Absolutely, I would love to be there, but I'm going to leave that in their hands. One of my goals is to continue to improve to a level that I get chosen for those kinds of things."
As for putting it all together, perhaps Green says it best.
"Unless a person gets the revelation for himself, they will never change," he says. "He has to see what he can become, then he has to want that. But first you have to get into his mind and help him understand that without a vision he won't go anywhere.
"He's one of those players who wants to be better, to reach more into his potential. It's just a matter of him applying himself and getting the right opportunities."
Ken Amos is senior editor for THE SPORTING NEWS.
Bradley's best 10-game stretch came as a 76er
DATE OPP MIN FG-ATT FT-ATT 3P-ATT ORB TRB
03/25/95 Indiana 38 9-15 5-5 0-0 5 14
03/29/95 Charlotte 35 4-9 2-6 0-0 5 15
03/31/95 Portland 40 7-13 0-0 0-0 6 16
04/01/95 @Chicago 33 4-13 2-4 0-0 4 14
04/04/95 @Miami 35 5-14 0-2 0-0 5 10
04/05/95 @Charlotte 40 8-13 5-8 0-0 4 13
04/07/95 @Boston 43 6-17 2-5 0-0 3 12
04/08/95 Orlando 32 7-17 5-7 0-0 2 3
04/11/95 Atlanta 47 6-14 7-10 0-0 3 15
04/13/95 New Jersey 38 6-16 5-8 0-0 4 12
TOTALS 381 62-141 33-55 0-0 41 124
DATE AST STL BLK TO PF PTS W/L
03/25/95 1 1 8 1 5 23 LOSS
03/29/95 0 2 4 0 5 10 WIN
03/31/95 3 0 5 2 4 14 WIN
04/01/95 0 1 2 4 4 10 LOSS
04/04/95 1 1 6 0 4 10 LOSS
04/05/95 1 0 5 0 4 21 LOSS
04/07/95 1 2 7 1 3 14 LOSS
04/08/95 1 2 6 1 5 19 WIN
04/11/95 1 2 4 5 6 19 LOSS
04/13/95 0 0 8 4 3 17 WIN
TOTALS 9 11 55 18 43 157 4-6
FURTHER DECONSTRUCTING SHAWN
Believing Bradley's development was stifled during his time with Philadelphia and New Jersey--teams in search of instant offense--Mavs assistant coach Donn Nelson says, "Whenever you're that tall and your body type (and center of gravity) is like that and you're expected to be a 7-6 savior, it's a bad mix. Shawn is a case study."
We couldn't agree more.
The Sporting News enlisted three bright NBA minds to examine different components of Bradley's game and tell us what, if anything, needs fixing.
BUZZ BRAMAN Credentials:
Known as the NBA "Shot Dr.," Braman was the first full-time shooting coach in league history (with the 76ers in the late '80s). He once made 738 consecutive free throws and sank 1,121 of 1,144 free throws (nearly 98 percent) in one hour. He also hit 246 of 250 3-pointers. Braman analyzed the technical components that make up Bradley's shots by reviewing tapes of six recent games in which Bradley averaged 7.5 points, 6.3 rebounds and four blocked shots.

Thoughts:
"I was surprised at how much Shawn has improved. His free throws were really nice mechanically. He has great natural touch. I think he's right there, second only to (Rik) Smits in terms of natural touch and shooting ability for a big man."
Braman says any player who can shoot 80 percent from the foul line can shoot regardless of their height. "To not have that as part of your offensive game ... that's where I would try to do something with him," he says. "What is evident is that Bradley does not have a polished offensive game. At this point, I would throw out the fact that he's 7-6, saying, `You're a pivot man, get down there in the low post,' because it's obvious he doesn't have the upper body strength to bang down there.... I've always believed that height has nothing to do with what you can do to develop your game.... And touch, you can't teach."
Braman believes Bradley should try to refine his 15-foot game. "He needs to develop a triple-threat game; meaning catch, turn and face, like the game Karl Malone has," Braman says. "But what (Bradley) does on his free throw is not what he does on his jump shot. This is a very common error with players."
Technically, Braman says there is no question that Bradley is pulling his hand back too quickly after his follow-through when shooting from the field.
"When you do that at NBA-game speed, results are disastrous. At the free-throw line you can get away with it a little more. Righthanded shooters, as they raise the ball from waist level, form a backwards letter L. And Shawn has that ... a la Smits and Chris Mullin.
"When you shoot a free throw, you get to raise that L at the speed you're comfortable with. When you shoot jump shots, the pace of the game and the amount of time that you're open dictates how quickly you raise that up.
"Length of time on the follow-through is what controls that speed. The faster you raise it--for most people--the faster you jerk it. And that's loss of control.
"Bradley needs to see himself doing it on tape, understand (why he is making the mistake), and even though it might be part of his muscle memory now, it's easily correctable when 500 shots a day are supervised the correct way. Then, that will become second nature."
Braman says that while watching the tapes of Bradley, "I'm saying to myself, `Man, this is a guy who, when he can get to the middle, has a nice little hook shot, but he doesn't have the strength to bull his way in there. The question is then, if you're the coach, do you not give him the ball? No, you have to compose a game that makes him more of an offensive threat. He seems like a very good passer who sees the floor well. He's better off at the high post where he can hit cutters or people when they're open. (If he can) hit that 15-footer with consistency, then that will draw the defender up tight and he will be able to put the ball on the floor a little bit."
Braman says Bradley must define his offensive game in his own mind before he can set about coming up with a go-to move.
"He doesn't have a book on himself that he goes to," Braman says. "Therefore, his offense happens haphazardly, rather than on purpose.
"So I say, look at Shawn's strength offensively, and that would be his touch.... I selfishly look at everything as shooting, but if he would develop his jump shot, this guy is a 16-point-a-night shooter, just like falling off a log."
Braman says until someone teaches Bradley how to play triple-threat basketball as well as translate his free throw into his jump shot, his offensive game will continue to be a blank page.
"I guarantee you at this point if you gave him a pencil and paper and said, `Shawn, do me a favor and write down your game,' he'd just hand you back the paper."
--K.A.
PETE NEWELL Credentials:
The former California-Berkeley coach, who won an NCAA title in 1959, has run "Pete Newell's Big Man's Camp" for 22 years. More than 90 current NBA players have participated in the camp. Now 83, Newell serves as a consultant and West Coast scout for the Cavaliers.

Thoughts:
"First ... Bradley really should have spent more time in offseason basketball programs," Newell says.
Although Bradley did work early in his career with Kareem AbduI-Jabbar, Newell still opined, "I don't think he has ever done the kind of offseason work ... needed to develop his post play. I don't think he has ever shown the desire to do that."
Newell was particularly incredulous that Bradley was forced to endure daily high-calorie meals during his first NBA season. The Sixers mistakenly thought increased weight would translate into increased strength.
Newell also believes Bradley's development probably has been hindered by his exposure to motion or flex offenses in college. In the collegiate ranks, there is more spacing between players, as opposed to the NBA's post game, through which so much offense flows.
"Nellie got (Bradley) in his (fourth) year," Newell says. "By that time, his style of play was pretty, well set. For a kid his size, he's very athletic, but his body is such that he's not going to be the best for NBA play because there's so much physicality in the paint."
Because Bradley often gets manhandled because of his high center of gravity (which affects a player's balance), Newell believes Nelson is taking a logical approach this season with Bradley.
"At this point in his career, Bradley would really have to commit himself to work on playing in a low-stance position"to bring down his center of gravity, Newell says. "Basketball is a game of habits, and habits (good or bad) are acquired only through repetition."
Newell says one of the first things taught to big men is the necessity of keeping a low balance in order to resist the pressure of the defender, and the use of hips.
"You don't have any hips if you stand straight up," Newell says. "And his first five years of his career he wasn't required to stay low, so it's pretty hard for Nellie now to lower that down. Bradley has shown no propensity for doing it, and he'll never be a post player unless he learns to play low--knees flexed and butt out."
-K.A.
CLIFFORD RAY Credentials:
Ray, 50, was an undersized center (6-9)and played 10 seasons in the NBA with Chicago and Golden State. Ray coached Bradley during his stay in New Jersey as an assistant to Butch Beard. Ray, who recently was diagnosed with prostate cancer, endeared himself to the young center with his tough-love coaching tactics and assertions that one day Bradley would become an All-Star.

Thoughts:
"I think the biggest thing Shawn has to overcome is that you are who and what you are," says Ray, now an assistant coach with the Fort Wayne Fury of the Continental Basketball Association.
Ray still believes Bradley has All-Star potential, but first he would reiterate to him "not to let your ego get in the way." He says Bradley sometimes tries to do things on the court that his body physically won't allow.
"I always tell him, `Don't be a thug. We all know you've got a big heart,' " Ray says.
But he believes mixing it up with the likes of Shaquille O'Neal and Alonzo Mourning is better left to someone who can back it up.
To that end, Ray says Bradley, who never has been surrounded by a stellar cast, "needs another big, bulky player behind him when the other teams try to get into what I call a `bully game.' Then the Mavs could bring that player (to bang inside)."
Ray says Bradley must understand that the most unselfish position in basketball is the 5-spot.
"If he were to get into the best shape of his life, the best condition ... so that he could have endless stamina, then I don't think anyone could play with him," Ray says. "He could wreak havoc on a team. There's nobody in this game who runs the floor as well as Shawn Bradley when he is in condition. He's just got to believe in Shawn."
Ray almost sounds in lock step with the Mavs' utilization of Bradley this season as he says, "What I try to teach young centers is that they have to do what it takes to win ballgames vs. trying to get their (numbers)."
But Ray soon parts company with the team and the rest of the NBA hierarchy. Given the tremendous investment by teams in players' salaries, Ray thinks it is a shame that teams don't hire someone to tutor a big man like Bradley.
"To me it would seem worth it to pay someone who has played the position, just to work individually with developing big men," Ray says. --
K.A.