An unquenchable thirst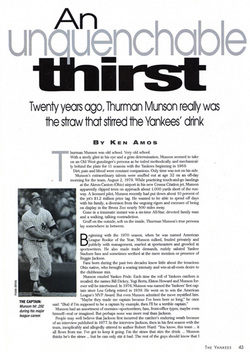 By Ken Amos
Senior Editor

THE SPORTING NEWS
Thurman Munson
was old school. Very old school.
With a steely glint in his eye and a grim determination, Munson seemed to take on an Old West gunslinger's persona as he toiled methodically and mechanically behind the plate for 11 seasons with the Yankees beginning in 1969.
Dirt, pain and blood were constant companions. Only time was not on his side.
Munson's extraordinary talents were snuffed out at age 32, on an off-day morning for the team,
August 2, 1979
. While practicing touch-and-go landing at the Akron-Canton (Ohio) airport in his new
Cessna Citation
jet, Munson apparently clipped trees on approach about 1,000 yards short of the runway. A licensed pilot, Munson recently had put down about 10 percent of the jet's $1.2 million price tag. He wanted to be able to be able to spend off days with his family, a diversion from the ongoing rigors and excesses of being on display in the Bronx Zoo nearly 500 miles away.
Gone in a traumatic instant was a six-time All-Star, devoted family man and a walking, talking contradiction.
Gruff on the outside, soft on the inside. Thurman Munson's true persona lay somewhere in between.
********
Beginning with the 1970 season, when he was named American League Rookie of the Year, Munson sulked, feuded privately and publicly with management, snarled at sportscasters and growled at sportswriters. He also made trade demands, rudely saluted Yankee Stadium fans and sometimes seethed at the mere mention or presence of
Reggie Jackson
.
Fans born during the past two decades know little about the tenacious Ohio native, who brought a searing intensity and win-at-all-costs desire to the clubhouse mix.
Munson exuded Yankee Pride. Each time the roll of Yankees catchers is recalled, the names
Bill Dickey
,
Yogi Berra
,
Elston Howard
and Munson forever will be intertwined. In 1976, Munson was named the Yankees' first captain since
Lou Gehrig
retired in 1939. He went on to win the American League's MVP Award. But even Munson admitted the move mystified him. "Maybe they made me captain because I've been here so long," he once said. "(But) if I'm supposed to be a captain by example, then I'll be a terrible captain."
Munson had an assortment of enemies — sportswriters, fans, front-office types, maybe even himself — real or imagined. But perhaps none was more real than Jackson.
People may well believe that Jackson first incurred the catcher's enduring wrath because of an interview published in 1977. In the interview, Jackson, then in his first season with the team, inexplicably and allegedly uttered to author Robert Ward, "You know, the team ... it all flows from me. I've got to keep it going. I'm the straw that stirs the drink. .... Munson thinks he's the straw ... but he can only stir it bad. The rest of the guys should know that I don't feel that far above them. ... I mean, nobody can turn people on like I can, or do for a club the things I can do. but we are all athletes, we're all still ballplayers.:
But tensions were bound to spill over in the Bronx from the day it was announced that Jackson and owner
George Steinbrenner
had scribbled a five-year, $2.9 million contract agreement on a restaurant napkin. Jackson, the game's preeminent power hitter, brought his brash swagger to New York because Steinbrenner, always looking for headlines, had just reeled in the biggest fish (Catfish included) to date.
Until then, Munson had been the heart (if not the soul) of the Yankees. Munson brooded in his corner locker upon learning of Jackson's good and amazing fortune, particularly since he was making about $400,000 per season. Munson believed he had an oral agreement with Steinbrenner that should have kept him the highest-pald player on the team.
Munson had prided himself on a solid set of principles. He led by example. He did the dirty work. And a man's word was his bond. Teammate rallied around his style of leadership, and many shunned the self-absorbed Jackson, whom Munson wittily dubbed "Mr. October" in '77.
In his 1984 book, Reggie Jackson tried to set the record straight, or, perhaps, revise history. "I have no idea where (Ward) got the quote about Munson because I never said anything like that. Not anything even close to it, mostly because I hadn't been around Thurman enough to get any kind of reading on him. But those quote about him hurt me more than anything, an follow me around to this day."
"I think all that was blow out of proportion," former outfielder
Roy White
says. "I don't think there was any real feud. Thurman and Reggie got along pretty well once they got to know each other.
********
For the chunky 5-11. 190-pound Munson, the 1970s already had taken a monumental physical and emotional toll. Behind the plate, he was agile and had a strong arm and quick release. At the plate, he was accomplished and had good speed for a catcher. Even so, Boston and Cincinnati catching prodigies — the taller, leaner, more powerful and more photogenic
Carlton Fisk
and
Johnny Bench
— were baking in the flow of All-Star accolades. Munson, though an All Star himself, hated being a second banana.
If Fisk and Bench were the fine wine and caviar of catching, Munson was the meat and potatoes. Especially the day he wore his heart on his sleeve and uttered, "I guess the press doesn't like me. In 1971, I made only one error all season but didn't win the fielding award. I also threw out 38 of 53 guys trying to steal, but someone else always gets the headlines."
Of Fisk, the outspoken Munson once said, "For a while, it was like I didn't even exist. He got all the publicity and most of the All-Star votes. I don't hold it against him personally, but he's never been as good a catcher as I am. If we were on the same team I might even like him, but he'd have to play another position."
When a writer once told Munson the Yankees were pursuing Bench, he snorted, "Great, but where are we going to play him? Designated hitter?"
Munson had a particularly high pain threshold, even for a catcher. But force of will, he was able to nurse his body through nagging hand injuries caused by foul tips, chest bruises from foul balls, foot woes and wobbly knees brought on by numerous collisions at the plate. Not to mention the rigors of squatting for more than 140 games a season.
Former Munson backup
Cliff Johnson
recalls, "Thurman was really a passionate person ... to those close to him and toward the game itself. I probably got to know him better than a lot of people because I was his backup. He complained to me about a lot of things, but you had to love the spirit he exuded toward people and the game."
Perhaps Munson needed to look no further than 60 feet 6 inches away for one of his most ardent supporters.
Ron Guidry
credits the catcher for much of his success. "When I started to become an established pitcher, all he told me was, "Trust me, and you'll do it.' " said Guidry, who was 59-18 from 1977-79 with Munson as his primary catcher. "As a pitcher, just pitching to him, my job was easy because I didn't have to worry about whether he was right or wrong."
Guidry said while most pitchers have to think about the difference between the hitter at the plate, the one on deck and those wating in the dugout, Munson would tell him, "I'll take care of that. I know all of that already." He said all Munson expected in return was for the pitchers to give him their best pitch every time.
Teammate and close friend
Bobby Murcer
still marvels at the confidence Munson built among Yankees pitchers. "If he put down No. 1, they didn't question it. If he put down No. 2 outside, they didn't question it," Murcer says. "Having that kind of confidence in Thurman was a tremendous asset. ... You don't find that in too many places today."
Although former Reds and Tigers manager
Sparky Anderson
once chided reporters for uttering Munson's name in the same breath as Bench's, Munson's teammates never would have agreed.
"Thurman as a player was the ultimate true professional," recalled former utility infielder
Brian Doyle
. "The man was hurt — his legs and shoulder. (He) never complained. He went out and did his job. If he heard somebody complain, he would just go up to them and say, 'Retire!' He was a guy who brought a lot of class and dignity in going out and doing his job."
Munson also had a built-in support system in manager
Billy Martin
, who remembered the catcher this way: "He was a great competitor and a great athlete, and he always busted his tail for me. He was every manager's dream."
According to
Mickey Morabito
, the Yankees' former publicity director, "Thurman was a take-charge guy on the field. The Yankees back then had .... a lot of guys who were leaders in their own way ... but I do think Billy gave Thurman a lot of leeway in terms of calling a game and stuff like that."
Martin certainly knew Munson through thick and thin. He wept openly when informed of Munson's death. "For people who never knew him and didn't like him, I feel sorry for them. He was great man," Martin said. "For his family and his friends, and all the people who knew and loved him, my deepest sympathy. We not only lost a great competitor, but a leader and a husband and a devoted family man, which is rare today. He was a dear friend. We would sit a lot and talk about our problems. I loved him."
Says Morabito: "Obviously, because of (Martin's) relationship with Thurman, it hit him a lot harder than if he had been some other players because Thurman was always one guy who was in Billy's corner, especially in those years when you had what I used to call the vicious triangle between Billy and Reggie and George. You never knew who was friendly with who each day.
********
Munson's major league career began slowly, with one hit in his first 30 at-bats. Still, he went on to lead the Yankees in his first full season with a .302 average 25 doubles, six home runs and 53 RBI and was named Rookie of the Year. He also won the A.L. MVP in '76, becoming the only player in the franchise's storied history to win both honors.
Three times, Munson drove in 100 or more runs. He appeared in three World Series (1976-78) with 25 hits in 67 at-bats (a .373 average). The Sporting News honored Munson four times on its A.L. All-Star team, three times on its A.L. All-Star fielding team, and as A.L. Player of the Year in 1976.
Hitting .288 at the time of his death, Munson finished his career with a .292 average, 113 homers and 701 RBIs. The Yankees' first-round draft choice in 1968 (the fourth player selected), Munson played in just 99 minor league games before making a permanent leap to the majors, where he caught in 1,278 games and appeared in 145 others.
Munson's success didn't always translate into cheers from the fans. As reported in The Sporting News, a chorus of boos rained down on him early in the 1976 season after ha had launched a throw to second base that not only failed to catch
Don Baylor
stealing, but missed the mark entirely and allowed Baylor to score the winning run. Munson was toast when he came to bat in the ninth, and he heard more Bronx cheers after making the final out. He fired off two improper gestures.
He later explained his behavior: "I just felt that considering the season I've been having, they should have show a little more appreciation. New York is like that. They want you to hit a home run every time, or be a complete bum so they can boo you. Maybe I'm a little touchy. I worked by behind off to get my arm back to where it was. I struck out. I wanted to get a hit. I've been fighting so hard to come back all the way. Those whole thing hit me all at once. I heard the fans booing. I heard them earlier in the year when I was leading the team in 10 of 12 categories and they still booed me."
********
Sportswriters have an unfair advantage. Each comes equipped with a loaded arsenal of stinging words and phrases. Most are not afraid to use them. Cantankerous, prickly, irascible, abrasive, grouching, surly, gruff. Take your pick.
"I'm a little too belligerent," Munson once admitted.
OK, belligerent.
"I cuss and sweat at people. I yell at umpires and I'm a little too tough at home sometimes. I don't sign as many autographs as I should, and I haven't always been very good with writers."
Murcer said of his friend, "Did he ever get mad? Sure. Thurman got mad like the rest of us when we lost games or didn't do the job or whatever."
But Munson's wife, Diane, said: "It's all just a put-on. He's a little tough to know and doesn't want people to get too close to him, except when he wants them to. Underneath it all, however, he's a real softie."
Former second baseman
Willie Randolph
, ow a Yankees coach, was 21 when he first encountered Munson. "When I first cam aboard (in 1976), I was kind of a young tough kid from Brooklyn with a chip on his shoulder. As captain, he tried to bring me into the fold, but I was very serious and intense. He tried to needle me a little early on to ... loosen me up a little bit. We almost got into a little scuffle one time — he probably would have killed me — but I stood up to him one time at the batting cage. We had a talk afterward and he said to me, "Hey, man, I like you. If I didn't like you, I wouldn't fool around with you. Once I let my guard down and I could see where he was coming from, we became really good friends. I miss him to this day. He was a great guy who took me under his wing.
"If you got to know him, he was a great guy. He'd give you the shirt off his back. Strangers didn't really take well to him becasue he had kind of a dry wit and he was very honest and very guarded."
As for the sportswriters? This snippet appeared in an Aug. 18, 1973 issue of The Sporting News:
The paradoxical Munson never changes. He tries to make out he's grumpy, but isn't. He rants and storms with the press, then wonders why he doesn't get as much publicity as he should. Recently, after a game-winning hit, he was being interviews. "You seem more pleasant, more relaxed answering our questions that you usually do," a writer said. "No, I'm not." Munson replied with a big grin. "You guys are just getting to know me better."
I saw another side of Munson on a sunny 1978 afternoon at Royals Stadium in Kansas City. Munson, clad in the Yankees' dark-gray double-knit road uniforms that grossly accentuated his barrel chest, sat alone in the dugout uncharacteristically wearing a silly smile. Careful in my approach for a better look, I saw the Munson I prefer to remember. He was much too busy to be bothered with idle chit-chat from a young reporter. Instead, he was engaged in a curious game of cat-and-mouse with fans.
Munson would lean forward and extend a baseball-laden palm upward. He then would toss the ball over his head and onto the dugout roof. As delighted fans squealed and scrambled for a prized souvenir, Munson quickly jerked on a heretofore undetected string that brought the baseball lurching back onto the top dugout step and soon back into his hands.
"Gotta keep 'em entertained," he muttered in my direction," managing a slight grin. He slid a couple of feet to his right and give the ball another toss toward delighted fans.
********
Munson longed to be nearer his wife, daughters Tracy and Kelly and son Mike. After the 1977 season, he suggested he would like to play in Cleveland, a 45-minute drive from his home in Canton. His please, view by some as a salary ploy, fell on deaf ears. He would be back behind the plate the next year,, leading the Yankees into the World Series.
One reason he wanted to be close to home was spelled out by Diane Munson in an 1978 interview with
The New York Times
. Munson, who had received an award from the National father's Day Council as baseball's Father of the Year, wanted to spend more time with their son, Mike, who was hyperactive.
"We took him off the medication because if changed his personality" she recalled. "We'd rather put up with his rowdiness. But when Thurman is around, you wouldn't believe he's the same child. Usually, Michael gets up 10 or 11 times a night and calls for me. But when Thurman is here, he says, "Michael, I don't want you getting up at night and calling 'Mommy.' And he sleeps until morning and then when he wakes up he calls Thurman.
"When I see that, I know we need Thurman around. This little boy needs his dad. He goes to nursery school a couple of days a week, and the teachers can tell when Thurman is home. It's that obvious from his behavior. He's insecure when Thurman isn't around."
Just before his death, Munson clearly had Mike on his mind.
"He's only 4 and he's just beginning to understand what I do," he said. "I want to play a few more years, long enough for him to understand and appreciate what I have accomplished. If I have three or four more good years, I might have the kind of statistics that could get me into the Hall of Fame. I'd like that for Mike."
Today, Mike Munson stands 5-9 and weights 200 pounds. An undersized catcher like his famous dad, the undrafted free agent signed with the Yankees in 1996. He played just and handful of games with rookie and independent league teams, including the Canton Crocodiles..
In an era in which slogans sell products, the Crocodiles market "Baseball With a Bite." Ironically, the Crocs play their home games at Thurman Munson Stadium, named for a devoted father and major league player from another ear whose bark often was much worse than his bite.
********
So, who really was the straw that stirred that incredible Yankees' elixir in the 1970s?
Johnson: "The guys in the clubhouse were very affectionate toward Thurman because we knew within ourselves what kind of contributions he made. Thurman just quietly went out from day to day and got it done. I don't think Thurman really cared a whole lot about a lot of hoopla about how good or bad he was going. On the other hand, Reg was a little different. Reg wanted all the accolades, highlights, lowlights, flashlights, spotlights ... and he played to that. I certainly had no problem with it because the man was a producer and that's all you could ask. You got a little tired sometime hearing how great (he was), but we learned to live with it."
Doyle: "I'd have to say Thurman. He not only did it quietly, when something needed to be said, he'd go to the individual. He always waited for the opportune time if it needed to be said, and he said it. Everyone respected him."
White: "You'd have to say it was Thurman, really. Thurman was with us a long time. If you had the winning run on second base, Thurman was the guy you wanted to see at the plate. That's not the denigrate anything Reggie did while he was here."
Randolph: "To me, undoubtedly, it was Thurman. Reggie was a guy who always rose to the occasion. He claimed that when he cam here, and that was fine, he was a leader in his own way and Reggie did carry us at time. But in this clubhouse and on this team, Thurman still was the man. He was the man."