Baseball reminds that what
once was good can be again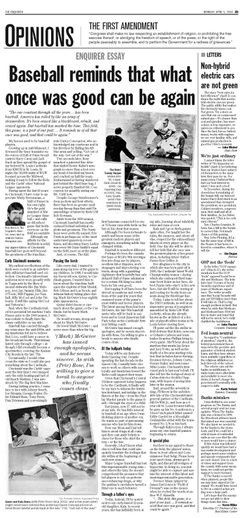 By Kenneth Amos
Director: News & Operations
"The one constant through all the years ... has been baseball. America has rolled by like an army of steamrollers. It's been erased like a blackboard, rebuilt, and erased again. But baseball has marked the time. This field, this game, is a part of our past. ... It reminds us of all that once was good, and that could be again."
My heroes used to be baseball players.
Growing up in mid-Missouri, I devoured the tinny transistor radio voices of Hall of Fame broadcasters
Harry Caray
and
Jack Buck
as they spread the gospel of my beloved
St. Louis Cardinals
from
KMOX
in St. Louis. At night, the 50,000 watts of
WLW
boomed across the Midwest, making it easy to follow the
Reds
and the Cards' other
National League
opponents.
Having spent the last 10 years in Cincinnati, I have come to appreciate
Marty Brennaman
, a Hall of Famer in his own right. He's the gold standard of
Major League Baseball
– and calls an old-school game that holds everyone on the field accountable.
Although my affinity for the Redbirds is solid, my appreciation of Cincinnati baseball lore goes well beyond the greatness of the franchise.
Early Cincinnati memories
My earliest recollections of the Reds were rooted in an unbelievably still-intact baseball card collection. Cincinnati's (sleeveless) uniforms were worn proudly within Topps sets by the likes of mound stalwarts like
Jim Maloney
,
Joey Jay,
Sammy Ellis
,
Jim O'Toole,
Milt Pappas,
Joe Nuxhall
,
Billy McCool
and
John Tsitouris
. (I still like saying McCool and Tsitouris.)
And, when the Cardinals traded for perennial hit machine
Vada Pinson
prior to the 1969 season, I was ecstatic to finally have the classy outfielder on my side.
Baseball has coursed through my veins since the mid-1960s, and my fanaticism led me to believe that I, too, could have a career in the broadcast booth. That fantasy lasted only through college – although I did eventually become a sportswriter, covering the
Kansas City Royals
in the late '70s.
Occasionally, I would crisscross the state so I could also pen something about the Cardinals.
Cincinnati was the Cards' opponent the first time I ever stepped onto the ratty heating-pad turf of
old Busch Stadium
. I was awestruck by
The Big Red Machine
.
During batting practice, I came face to face with
Johnny Bench
,
Joe Morgan
,
George Foste
r,
Peter Edward Rose
,
Tony Perez
,
Dan Driessen
and a seemimgly irate
Davey Concepcion
, who acknowledged my courteous nod in his direction by flailing his All- Star arms and yelling, "Get out of the way. Get out of the way."
Two seconds later, Rose smacked a patented line drive that sizzled
Bowie Kuhn'
s autograph no more than a foot over my head; it buckled my knees and cracked up half the team. Embarrassed at having wandered just behind the third base bag, I never properly thanked Mr. Concepcion for possibly saving my life. Until now.
Despite
George Steinbrenner'
s deep pockets and best efforts, there has been no greater modern- day lineup than that mid-70s assemblage of talent by Reds GM
Bob Howsam
.
Aside from the 1990 season, Cincinnati baseball has mostly endured behind individual exploits and greatness.
The Nasty Boys
were perfectly named,
Eric Davis
is perhaps one of the most underrated gamers in recent times, and shortstop
Barry Larkin
was every bit
Ozzie Smith
's equal on the field, more so at the plate.
And, of course, The Kid.
Passing the torch
Like every dad, I wanted to pass along my love of the game to my children. In 1998, I would take my 6-year-old son, Quinn, to Cardinals games. I wanted him to know about the franchise built upon the exploits of
Stan Musial
,
Bob Gibson
and
Lou Brock
, and witness history taking place during Mark McGwire's four nightly plate appearances,
Quinn didn't know or care much about the game, or the Cardinals, but he knew
Mark McGwire
.
He would scream, stomp and shout for Mark McGwire.
He loved Mark McGwire – and never more than when the big first baseman connected for one of 70 home runs with birds on the bat on his chest that season.
Although I've been fortunate to watch and know some of the greatest modern players and managers, something subtle has changed within.
Baseball is somehow different.
Perhaps it's been the cumulative haze of MLB's '80s investigation into drug use by players, needless labor disputes, work stoppages and skyrocketing contracts, along with a gambling nightmare that hopefully has only delayed Hall of Fame admission for a certain Hit King too stubborn for his own good.
But topping it off have been the steroid accusations and revelations of the past few years that ensnared some of the game's most visible and heroic players. The latest among them has been McGwire, the late-'90s baseball savior who will be back in uniform and in
Great American Ball Park
today as the Cardinals' first-year hitting coach.
McGwire has issued enough apologies, and he seems sincere. As with Rose, I'm willing to give a break to anyone who finally comes clean.
At the ballpark today
Today will be my first-ever Reds
Opening Day.
Despite spending the last decade in the Queen City, I usually have chosen to work so others with more loyalty and fanaticism toward the Reds could support their team.
Given that Cincinnati's Central Division opponent today happens to be the Cardinals, it finally will be my turn to witness the festivities first-hand, and indulge in the flavors of the day – from the Findlay Market parade to the game itself – through the eyes of a child.
But Quinn, now 17, will not be at my side. He has little interest in baseball at an age when I was idolizing players of another era. He wants no part of patronizing anyone who has let him down.
How can Mom and Dad tell him to avoid drugs at all costs, and then cast aside beliefs to cheer for those who skirt the system – or the law.
Honestly, I don't know what else to tell him that could adequately translate the feelings that stir within at the beginning of each new season.
Major League Baseball has lost this impressionable young man – and others like him. He doesn't comprehend the pressures that led players to rely on performance-enhancing drugs, or why the pastime's caretakers turned a blind eye to such behavior.
Through a father's eyes
Today, instead, I'll be seated next to my curly-haired 12-year-old daughter Kala. In recent years, she has faithfully been at my side, learning about infield-fly rules and cans of corn.
Kala and I go to Reds games quite often. I've taught her the rules, the nuances, and, above all else, respect for the extraordinary talents of every player on the
field. One day she will be able to tell her kids that she once saw the greatest players of her generation, including future Hall-of- Famer
Ken Griffey Jr
.
Her allegiance to the city in which she was born paid off in 2006, the Cardinals' latest World Championship season – during which she embraced third baseman
Scott Rolen
as her hero.
Albert Pujols
(who else?) is her new hero, but she'll still be waving at and rooting for Scotty from our seats along the third-base line.
Today, I plan to tell her about the 2010 Cardinals, as well as an impressive group of youngsters assembled by Reds GM
Walt Jocketty,
whom she already knows as the architect of a decade of playoff-caliber teams in St. Louis before moving here.
I'll point out the the stellar infield defense that Rolen, newcomer
Orlando Cabrera
and team leader
Brandon Phillips
bring to every game. She'll hear about the stardom that awaits
Jay Bruce
and
Joey Votto
, as well as the depth of a live-arm starting rotation that includes
Aaron Harang
,
Bronson Arroyo
, Johnny Cueto,
Homer Bailey
and newcomer
Mike Leake,
Cincinnati's first-round pick in last year's draft. I'll also tell her the feel-good story of Cuban defector
Aroldis Chapman
, with hopes of seeing him later in the season.
And, around the seventh inning, I'll throw in the unbelievable tale of the Cincinnati-based general partner of the Cardinals,
Bill DeWitt Jr.,
and how as a 9- year-old
St. Louis Browns
batboy, he gave up his No. 6 uniform to a 3-foot-7-inch pinch hitter named
Eddie Gaedel
for a
Moonlight Graham
-like at-bat with the transformed No. 1/8 on his back.
Through Kala's eyes, I always sense my own baseball passion beginning to return.
A special plea
But here is my appeal to those on the field, the players' union, those in front offices and Commissioner
Bud Selig
: Please keep your sport clean, always get it right, and discard all vestiges of hypocrisy. In doing so, you just might be able to capture and sustain the interest of this latest and most-impressionable generation.
Terence Mann (played by
James Earl Jones
in "Field of Dreams") was on the money when he recited the words of author
W.P. Kinsella
:
"... This field, this game, is a part of our past. ... It reminds us of all that once was good, and that could be again."