Bob, bob, bobbling along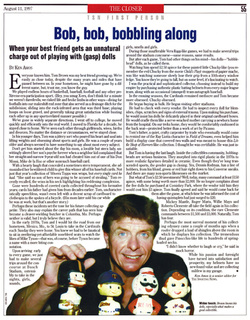 By Ken Amos
Senior Editor

THE SPORTING NEWS
Everyone knows him. Tom Brown was my best friend growing up. We're easily as close today, despite the many years and miles that have passed between us. In your hometown, he might have gone by a different name, but, trust me, you know the guy.
We played endless hours of basketball, baseball, football and any other pre-Xtreme-era participation sport. (Hey, you smug X-ers, don't think for a minute we weren't daredevils; we risked life and broke limbs in other ways -- diving for footballs into our makeshift end zone that also served as a drainage ditch for the subdivision; sliding into the rock-infested area that was third base; playing hoops on loose gravel, and generally taking great satisfaction while busting each other up in any sports-related manner possible.)
We've gone in widely separate directions. I went off to college, he moved quickly and efficiently into the real world. I moved to Florida for a decade, he stayed close to home. We've seen each other through girlfriends, wives, births and divorces. No matter the distance or circumstances, we've stayed close.
In his younger days, Tom was a jittery sort who poured his heart and soul into lifting weights and obsessing about sports and girls. He was a couple of years older and always seemed to have a something to say about most every subject.
Don't get him started about the day his mom, a lovable but stern lady, unwittingly altered son's psyche forever when a neighbor kid complained that her straight-and-narrow 9-year-old son had cheated him out of one of his
Don Mossi
,
Mike de la Hoz
or other nonesuch baseball card.
With a hearty laugh that concealed a sometimes stern temperament, she admonished her bewildered child to give this whiner all of his baseball cards. Not just that year's collection of '60-era
Topps
wax wraps, but every single card he had. "She said no son of hers was going to be accused of stealing," Tom recently recalled, the veins in his neck highlighting his reddening complexion.
Gone were hundreds of coveted cards collected throughout his formative years; cards his father had given him from decades earlier. Tom, uncharacteristically speechless, wasn't even left with a decent scrap of cardboard to clothespin to the spokes of a bicycle. (His mom later sold his car while he was at work, but that's another story.)
Perhaps these incidents set the tone for his future collecting appetite. They also may explain the career path that has seen him become a cleaver-wielding butcher in
Columbia, Mo.
Perhaps neither is valid, but I truly believe they are.
In the early 1970s, Tom and I would hit the road from our hometown,
Mexico, Mo
., to
St. Louis
to take in the
Cardinals
each Sunday they were home. You knew we had to be fanatical to sit in sweltering-yet-affordable nosebleed seats to watch the likes of
Mike Tyson
-- that was, of course, before another
Mike Tyson
became a name with a more biting connotation.
Upon arriving early to every game, we just had to make several trips around the concourse at
Busch Memorial Stadium
, ostensibly to take in the sights, girls, sounds, girls, smells and girls.
During those insufferable
Vern Rapp
-like games, we had to make several trips around the stadium concourse -- same reasons, same results.
But after each game, Tom had other things on his mind -- his dolls -- "bobbleheads" dolls, as he called them.
Watching him spend $2.50 apiece for these painted little Chucky-like (you remember the evil
Chucky
from the movie Child's Play) moppets of papier mache, was like watching someone slowly lose their grip from a 10th-story window ledge. You know they're going to fall, but on some level, it's fascinating to watch.
I was the practical and sophisticated collector, choosing instead to build my empire by purchasing authentic plastic batting helmets from every major league team, along with an occasional (stamped) team-autograph baseball.
In the ensuing seasons, the Cardinals remained mediocre and Tom became more obsessed. Chucky obsessed.
He began buying in bulk. He began visiting other stadiums.
He had to check with every vendor. He had to inspect every doll for blemishes, chips, scratches and signs of external trauma. Upon making his purchase, he would insist his dolls be delicately placed in their original cardboard boxes. He would cradle them like a never-wracked mother carrying a newborn home from the hospital. On our treks home, they would be comfortably cushioned in the back seat -- protected better than a work of art by
Picasso
.
Tom's father, a quiet, crafty carpenter by trade who eventually would come to remind me of the
Ray Liotta
character in
Field of Dreams
, even helped him build a display case that covered two walls and was meant to house this
Little Shop of Horrors
-like collection. I thought he was certifiable. He was just insatiable.
But Tom is having the last laugh. Inside the collectible community, bobbing-heads are serious business. They morphed into rigid plastic in the 1970s to more realistic figurines detailed in ceramic. Even though they've long transcended sports, the gender gap is closing. Yes,
Dennis Rodman
, has a line of bobbers, from his blond, green or red hair right down to his
Converse
sneaks. And there are many non-spots likenesses on the market.
But what of Tom's $2.50 investments? Well, today, many command at least $150 apiece, with some being worth more than $2,000. He no longer complains about the five dolls he purchased at
Comiskey Park
, where the vendor told him they would cost him $3 apiece. Tom finally agreed and said he would come back for them after the game, at which time he was informed the cost of having quintuplets had just surged to $20.
Mickey Mantle
,
Roger Maris
,
Willie Mays
and
Roberto Clemente
all take the field again in his collection. Depending on its condition, the rare Clemente commands between $1,500 and $3,000. Naturally, Tom has four.
Perhaps the most surreal moment of his collecting odyssey came a couple of months ago when a roofer dropped a load of shingles above the room in which he displays his collection. The tremendous thud gave Pinocchio-like life to hundreds of spring-loaded necks.
"I didn't know whether to laugh or cry," he said in mock horror.
While his passion and foresight have turned into satisfaction and prosperity, my helmets have no new-found value and are collecting mildew in my garage.