CORPORATE TRUST
THIS MEMO SHOWCASES not only the depth of my involvement in matters beyond typical newsroom management duties, but the analytical approach, structure, understanding, candor and clarity that I routinely bring to such assignments.

Note: Gannett began implementing Design Studios at five U.S. locations in 2010.


TALKING POINTS FOR INITIAL CONVERSATIONS: '
CO-EXISTING NEWSROOMS"
Date:
August 3, 2006
From:
Kenneth Amos
Contributors:
(Four names have been redacted to protect their anonymity).
To:
Name redacted, Enquirer Information Technologies Manager
DISCUSSION TOPIC (From Gannett, Co.)
Sharing newsroom resources via CCI to produce better newspapers at Louisville, Nashville, Cincinnati and Indianapolis.





The idea would be to create and share the stories in one large publishing system and be able to see each others stories, photos and graphics as easily as we see the ones created in our own newsrooms.





If this were to become reality, how would it benefit our newsrooms? What new opportunities would you take advantage of? What new newsroom alliances might be formed if all reporter, editors and designers were working in the same CCI system?



Identify the strengths, weaknesses, opportunities and threats that might come from a newsroom publishing system that would allow your editors access to stories of the group with less effort than our current email sharing system.
-----
VALIDATIONS
1.
"Shared Resources" ultimately could result in the elimination of redundant tasks and/or work groups – artists, infographics specialists, designers/paginators – or the redistribution of particular behind-the-scenes talent as yet undefined. For example, one Gannett property might become home to the infographics specialists serving all four Newsrooms; another might be charged with pagination of certain pages and/or sections.
2.
Heightened communication and collaboration between properties and the (anticipated) sharing (and challenging) of ideas and perspectives.
3.
Targeted or special sections – think Real Estate, Auto, Travel, even Nation & World sections – could be orchestrated within one business unit and delivered to the other participants, perhaps, with only a change of headlines necessary. Business and Features stories seem natural for possibly being planned and pooled for use between organizations.
4.
Only one team of reporters and photographers would be needed to cover regional issues/trends with a common denominator – Medicare, aging, immigration are examples.
5.
This could allow additional Newsroom FTEs traditionally reserved for print to be redirected to Online/Multimedia efforts.
6.
A common and sortable Calendar database could be created to feed the specific needs of each property.
7.
Common budgets could be sorted and/or scoured for stories, photos, graphics, video and added value to our own planning.
8.
Common tagging within CCI – or a system the same from Newsroom to Newsroom – would eliminate the need to tag upon receipt. This also might allow shared resources (employees on loan) who ultimately could move from Newsroom to Newsroom, depending on particular staffing needs.
9.
This may be the impetus to finally create a regional stock photo database for the purpose of creating a robust photo sales vehicle via DC5.
10.
The bottom line: A likelihood of several millions of dollars in savings annually beyond reorganization or realignment of duties and expectations.
CONCERNS
Such "regionalization" could lead to diminished "local, local" content. As one editor positioned a response: "while it does make sense at times, the more we become LOCAL-LOCAL-LOCAL, the fewer these opportunities (for regional collaboration) will exist.

Each property would need to retain editors and reporters dedicated to Local News, Sports and Features
Unless particularly aggressive in reporting, there would be fewer local organizations, businesses, minority spokespersons and other local-local representatives of diversity and other sources cited within stories. This could lead readers to make weaker associations with the disseminating product. And, the most observant readers might become unnecessarily alienated by being fed a steady diet of sources from neighboring towns/states/regions.
Compounded the likelihood of a reduced newshole, now being filled with more regional stories, home Newsrooms might be tempted to place fewer reporters within their circulation area.
Reporters are the face of the paper in their communities, the only personal contact with the public. Reader recognition/identification of and with their hometown news provider likely will decline.
Project and other leadership voids. Most employees respond well to face-to-face interaction, rather than having final calls and judgments about their work being made from afar. Teleconferencing technology could at least, from time to time, alleviate the faceless nature of such necessary interactions.
Jealousies could arise and be sparked by the lack of self-determination. Waiting for delegation of responsibilities for a regional-based story or project approach could lead to nimble news organizations getting "scooped" by electronic media that presumably would retain their profile within the communities now served. Also, recognition (yes, awards) now would have to be shared, quite possibly leading to an unpredictable decline in employee morale.
Brand loyalty could suffer if we lose touch with readership, local organizations and the micro-issues they face.
Editors deservedly would need assurances that files, images, etc., could easily be extracted from a more robust CCI system, but that those same files, images could not be removed from the system without notification. As one editor put it: "The threat would be the vulnerability of CCI. I wish it were a stronger system. I would worry about files getting killed out by other users.
IT issues would need to be streamlined to assure timely diagnosis of immediate problems, and a coordinated, solutions-based approach that benefits each site.
Complex issues might necessitate travel costs and other unforeseen challenges that could delay dissemination of news and information.
Interpretations of corporate policies and mandates might differ from Newsroom to Newsroom.
The need to standardize reliant software – for example, LayoutChamp or InDesign – among participating properties.
Quick assessment of legal issues that might be compounded by reporting from different jurisdictions, counties and states.
New job descriptions and standards of performance would need to be created to update responsibilities in these new environments.
Employees with concerns that have arisen because of personality or other disputes from individuals at other properties would require locally based Human Resources to have in place methodologies to investigate matters brought to their attention.
Without NewsGate, CCI largely plays a diminished role in discussion the true possibilities, ramifications and potential that ultimately could be derived from such a commitment.
Such a "shared resources" scenario, according to a former employee of the Media News Group in the San Francisco Bay area, ultimately led to a unionization movement (and subsequent ratification) fueled by disgruntled employees.
------
After selecting the best video-editing and storage solution in the marketplace on behalf of The Enquirer, I helped author Avid Technologies' official press release about the installation of its products and networking solutions.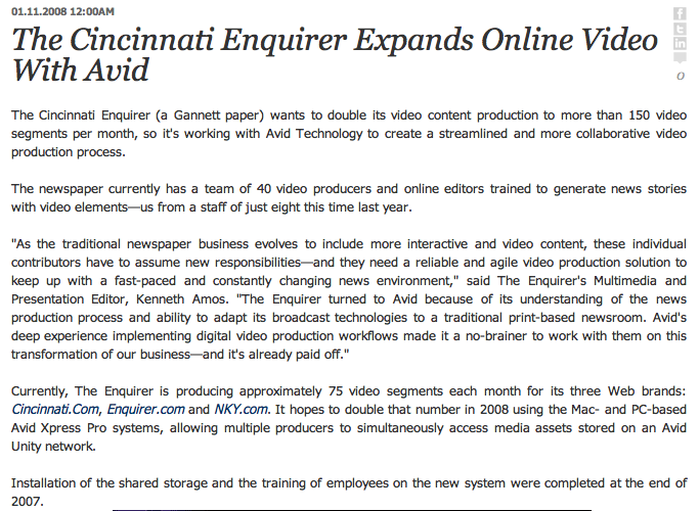 Gannett-Owned Newspaper More Than Doubles Its Video Content Production in Past Year, Plans Further Expansion
TEWKSBURY, Mass. --
Avid Technology, Inc.
(NASDAQ: AVID) today announced that The Cincinnati Enquirer - a Gannett Company-owned newspaper with print, online and rich-media content - is aiming to double its video content production to more than 150 video segments per month with an Avid[R] digital video production environment. In an effort to expand the channels through which its readers consume news and to stay competitive in the changing world of content distribution, The Enquirer is working with Avid to create a streamlined and more collaborative process for publishing video content on the Web. The newspaper currently has a team of 40 video producers and online editors trained to generate news stories with video elements - up from eight this time last year.
"Video producers at The Enquirer come from all walks of journalistic life - reporters, photographers, and editors. As the traditional newspaper business evolves to include more interactive and video content, these individual contributors have to assume new responsibilities - and they need a reliable and agile video production solution to keep up with a fast-paced and constantly changing news environment," said The Enquirer's Multimedia & Presentation Editor, Kenneth Amos. "The Enquirer turned to Avid because of its understanding of the news production process and ability to adapt its broadcast technologies to a traditional print-based newsroom. Avid's deep experience implementing digital video production workflows made it a no-brainer to work with them on this transformation of our business - and it's already paid off."
Currently, The Enquirer is producing approximately 75 video segments each month for its three Web brands: Cincinnati.Com, Enquirer.com and NKY.com. It hopes to double that number in 2008 using the Avid systems, which provide a reliable and flexible framework for this future expansion. Journalists will be able to work on any video project from their Mac or PC-based Avid Xpress[R] Pro systems, simultaneously accessing media assets stored on an Avid Unity[TM] network. Installation of the shared storage and the training of employees on the new system were completed at the end of 2007.
"The Cincinnati Enquirer is a pioneer in the media publishing world - and the work the paper is doing with video production and distribution is a wonderful example of how newspapers can really harness the power of the Web to evolve their businesses," said Johnathon Howard, director of Broadcast and Media Publishing at Avid Technology. "The Enquirer sought to work with a strategic partner who could help it plan and implement a scalable, all-digital production workflow capable of delivering significant productivity gains and ROI. With Avid's media publishing solutions, the newspaper will experience a dramatic increase in its operating efficiency, particularly the speed with which it can produce and publish stories to the Web."