VIDEO AND MULTIMEDIA
INCORPORATED AUDIO, VIDEO
and other interactive elements and other multimedia presentations into company's daily digital repertoire.
Coordinated 'video convergence' training for more than 40 reporters and editors.
Planned and launched Cincinnati.Com's first-ever weekday Morning Newscast.
Led Cincinnati to No. 1 ranking among all Gannett properties in the number of videos produced each month.
Conceived of video projects and served as executive producer of accompanying DVD productions, related to the series of 'webisodes.' This included scheduling, storyboarding, scripting, coordination between all participants and videographers and final production.
WEBISODES AND DVD PRODUCTION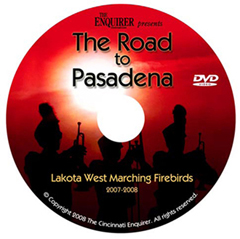 FROM THE PUBLISHER — AND THE PUBLIC
From: Buchanan, Margaret
Sent: Monday, February 11, 2008 11:16 AM
To: Amos, Kenneth
Cc: Callinan, Tom
Subject: Lakota West Marching band DVD

Ken:
Great job in bringing the Lakota West Marching band DVD to reality. I know it took a real team effort between Elm and Beacon Point bureau, so kudos to the team. Please pass along my note of appreciation to all involved.

Margaret



Fabulous video story. Thank you so much for the time and effort. What a wonderful way to document all the hard work and spirit of our band. Thank you, thank you, thank you.
Michelle Catania

I wanted to let you know that I've heard lots of great comments regarding the Lakota West band camp video! THANK YOU THANK YOU! From my perspective, it's the first time I've seen the media really capture the "band camp experience," from the hard work, to the long days, to the crazy fun. Please keep up the great work!
Gary McClimans
Webmaster, Lakota West Upbeat Club

Just a note to express how thrilled I am with the first video of the Firebirds march to the roses! The video shots are wonderful, especially of the band playing in the trees. My family (Cleveland, Chicago, Albeq. New Mexico) got a great laugh at the video of the Senior Prank (before and after). They are past "band parents" and band students so really enjoyed the cinematography and capturing the mood and hard work of these kids. My student's older brother (2006 grad. at college now) called the minute it hit the web page. Our alumni stay on top of things! He really enjoyed it. He was impressed by the amount of information the narration provided while establishing a story line worth "staying tuned to". He is a journalism major. The narration is superb. ... a real story. I teach in Wyoming, and many teachers have visited the web page just to see it. They are very impressed by the quality of videography and narration. They enjoyed the "flavor" of the story...hard work, but still a lot of fun and school spirit. My student (clarinet fingers in the beginning) and her friends sat one night and played it over and over laughing and "filling in details" the whole time. They want to know when they can expect to see chapter two of "THE BAND". A very professional and down to earth production. Thank You! We can't wait for the next "installment"!
Ann Shively

I wanted to thank you for the video highlighting the Lakota West Firebird's journey to the Rose Parade. When I saw it for the first time it brought tears to my eyes. I am a parent of a Senior flute player that is on the Rose leadership team. This video captured, in a short amount of time, the dedication that everyone has to the success of this band. Thank you for showing that to so many people. My daughter has learned so much from her experience with the Lakota West Band program. I am so happy that you have done this so others can see how wonderful this band is. I hope that it brings excitement to the City of Cincinnati and shows everyone that Lakota West Marching Firebirds are working to represent our city in the best way possible.

Dana Sieswerda
Office Manager (Oakley)
Eye Care Associates of Greater Cincinnati, Inc.


Thanks so much for such a wonderful video highlighting the Lakota West Marching Firebird's journey towards the Rose Parade. I think it's a wonderful tribute to how hard these kids are working to represent Greater Cincinnati on New Year's Day. I loved the shots in the video. You captured the emotion of the band. I remember going to closing ceremony on Friday night of Band Camp. There were tears and there were chills that night. I had the same thing happen to me when I was watching the video. I have sent the link to the video to friends and family who live far from home. They appreciate being able to feel the emotion from afar. The pride that this group of kids stirs in the community is just beginning. Thanks for your continued coverage that will continue to build the excitement day by day.
Suzanne Brungs
West Chester, OH

I am a proud parent of a trumpeter headed for the Rose Bowl Parade! We have enthuasticly supported the Lakota West Band program for the last 6 years with two other children currently involved in the band program as well. This schools band program continues to impress us with the instructors and kids commitment level, skill level, and most importantly their quality of character. You did a great job with the Wright State Band Camp video! You've shown the many aspects of band camp but brought the focus right back to the most important aspect, playing great music! This opportunity to march in the Rose Bowl Parade is unique and truly a plus for our entire Cincinnati area. Your continued coverage thru out these next few months brings us together for the greater good of the community. Good kids, doing something great, for all of us to enjoy! Thank you … keep up the great work,
Barbara Hamilton (a band parent)

Your program on the Lakota West Marching Band was fantastic. Thank you for taking the time to film and work with such a great group of kids.
Rosa Singleton

Just wanted to let you know I loved the video and articles about the Band. I think the entire community is behind them and would love to see businesses get behind and help support the band. These kids are working so incredibly hard to shine for their community and parents are so full of pride also. This is a big accomplishment so maybe more people will become aware of how HUGE this is thru your articles. Keep up the good work and thanks for getting us some attention.
Libby Davidson

A little feedback for you… I think the piece is a great profile of the whole band but from a personal viewpoint of the students. It shows the range of activity I the band prep from the hard work to the fun that builds comradelier of the "team" concept. I am constantly amazed at the caliber of these kids and the program. Even though I hang around these kids a lot, your (collective) reporting in video (and in print) showed me yet another view and you help get this wonderful and positive story of these young people out to our communities. I have had a lot of verbal feedback from parents and business acquaintances who have viewed the video and are delighted to learn more about the band Thanks for all the attention!
Rick Shively
Investment Advisory Representative
Jefferson Pilot Securities



JUST FOR FUN