'The Man'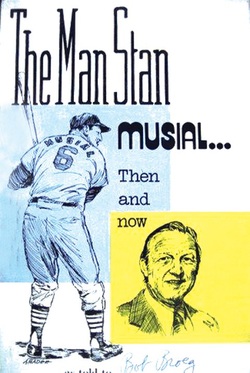 By Ken Amos

Stanley Frank "Stan" Musial — No. 6 — was as much a gift to fans of the St. Louis Cardinals as he was gifted.

Affectionately known at "The Man," thanks to those who listened for 22 years to his exploits on the vast Cardinals radio network, or to anyone who watched him collect 1,815 hits at home and 1,815 hits on the road, he transformed himself from a dead-armed minor-league pitcher into a major-league outfielder.

The original "kid" from Donora, Pa., — with an unorthodox left-handed batting stance — was a three-time Most Valuable Player. He won seven National League Batting titles and was a World Champion on the field three times — and once more for good measure during his only year as the team's general manager.

Elected to the Hall of Fame on the first ballot in 1969, he was an N.L. All-Star 24 times and was named to Major League Baseball's All-Century Team three decades later.

Musial, the dutiful soldier, missed the 1945 season to serve in the U.S. Navy during World War II.

He was a father, a friend, a businessman, a sportsman, an amateur harmonica player, a storyteller and one of baseball's greatest ambassadors.

In 2011, he was awarded the Presidential Medal of Freedom.

And quite likely, Stan Musial, who died last Saturday at age 92, easily was the most humble sports legend of our lifetime.

My now-adult son won't recall his only encounter with "The Man," but it's one I'll never forget. It came as I was carrying my first-born toddler down an escalator as we were departing a sports convention at a downtown St. Louis hotel. Suddenly rising from the opposite direction — and growing larger than life — was a beaming Musial in a white shirt and salmon-colored sport coat. He was gladly greeting everyone as they slowly glided past. When we reached equal footing at the midway point, he reached across the narrow divide, gently touched my son's arm and said exactly what I expected.

"Whaddaya say? ... Whaddaya say?"" Musial asked surely not expecting a reply. "Whaddaya say?" of course, was Musial's catchphrase. I know I heard, "Whaddaya say?' at least three — or six — more times before we all reached solid ground.

That chance encounter was nearly 20 years ago, but it was the first pleasant thought that came to mind after sadly learning of the passing of this great player — no, make that this great man — who lived a Midwestern Golden Rule that included dignity, pride and the honor of wearing the birds on the bat.

My first brush with the Musial name came down the stretch of the 1963 season as I was just awakening to what would become a lifetime love affair with Cardinals baseball.

Through the static coming from a tiny Realtone transistor radio, Harry Caray continually lauded a particular man — "The Man," who could do no wrong. "The Man," who doubled. "The Man," who homered. "The Man," who drove in runs. "The Man," who was adored.

The Cardinals fell just short of unseating the Dodgers to win the pennant that season, and I couldn't wait for a full season to finally get to know this great man, Stan. What I failed to comprehend was that '63 was Musial's swan song in the big leagues at age 42.
But Stan Musial would give the rest of his life — a full half century, in fact — as a resident and businessman in his adopted hometown. He was the omnipresent face of a proud franchise, and an accessible and honorable presence on public occasions and countless good deeds behind the scenes.

I encountered Musial a few more times — mostly during the 1990s at the annual St. Louis Baseball Writers' dinners, when he would need little coaxing to whip out his ever-present harmonica to entertain attendees with a chorus, or two, or three of Take Me Out To The Ball Game. His verses sometimes were interrupted — or punctuated — by often-rambling stories or top-of-mind thoughts and laughter that pleasurably — and considerably — extended these yearly winter get-togethers.

My most personal encounter with Musial was when he came to my hometown, Mexico, Mo., in the mid-'70s, along with Jack Buck and Bob Broeg, another pair of other St. Louis icons, to promote a book — The Man Stan Musial: Then and Now.

My Dad was not particularly a baseball fan, but, thankfully, he often humored my indulgences related to all things baseball and Cardinals.

After spending an unusually tiresome workweek working the mine pits for a firebrick plant, my Dad surprised me by suggesting that we go meet Stan The Man. We spent a couple of hours in line with other townsfolk, waiting to get into the basement "community room" of the local bank hosting the event.

Then, just a few feet away, there was Musial, tan and relaxed, sitting next to Buck. Both were chatting cordially with kids and adults while Broeg, the pale, gaunt sportswriter for the St. Louis Post-Dispatch, was furiously applying his autographs to a stack of books in front of him, waiting for the line to move toward him. Parked in front of Musial and Buck were a couple of Anheuser-Busch products. I don't remember much else, except afterward my Dad seemed genuinely happy to have shaken hands with Stan "The Man" Musial.

That toddler son who was briefly touched by "The Man," never got to meet his grandfather, who, too, was touched briefly by "The Man."

The same Midwestern Golden Rule values for which Musial has been rightfully lauded — and about which we will hear in even more eloquent terms from Bob Costas as No. 6 is laid to rest today — also dwelled decidedly within my Dad's heart. And, I see them, too, in how my son respects and unconditionally accepts people, their feeling as he endeavors to make a difference in so many lives.

My 15-year-old daughter has become a Cardinals fan through and through. Although she never encountered Musial, she more fully appreciates the regal and legendary standing his name commands. She, too, possesses the same heart of a champion as "The Man."

While she will gravitate toward players worthy of on-field adulation, sadly and remarkedly, together, we will say goodbye today to quite possibly the last person in sports whose full life on Earth truly was worth emulating.

No arrogance. No acrimony. No hatred.

No more Stan.

Maybe it really is just a Midwestern thing.

No matter, it's probably as good of time as any to take a moment give thanks for "The Man," and all the men and women who have been positive role models in our lives.