---
MY PEERS BELIEVE IN ME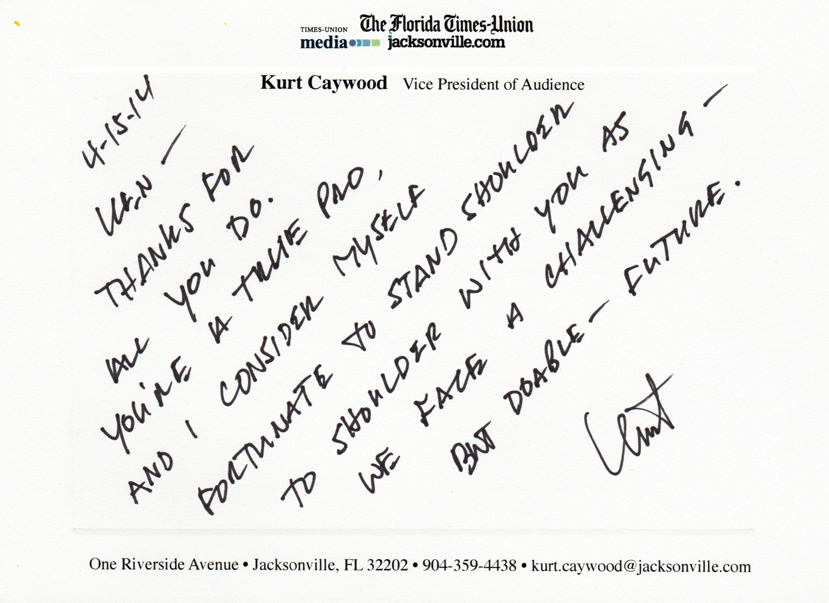 In the two years I have worked closely and daily with Ken, I have found him to be creative, demanding of himself and others, collegial and collaborative with colleagues and resourceful in his use of digital media. His ability to bring the best out of his staff is a precious quality, based on my frequent experience in conducting national job searches for executive talent. The results, often reflected in the visual and online presentation of the Florida Times-Union, have made the newspaper more compelling to readers than had been the case in prior years (I have been a subscriber for a dozen years).

While setting and enforcing high standards, Ken has conducted himself in a caring, nurturing way, often taking much younger and less-experienced journalists under his wing to encourage their talent and build their confidence. Equally important at the Times-Union, he has been adept at "managing up," educating leaders with less digital / presentation experience and leaders who are less facile in managing creative professionals.As someone who emphasized newsroom diversity, I also have found Ken to be appropriately alert and sensitive to diverse cultures. His immediate family reflects such diversity.

As you understand very well, it is becoming impossible to understand the local economy, local politics, local environment, even local sports and entertainment, without appreciating strong global influences. Nor is it possible to communicate effectively to an ever-more diverse audience without having keen interest in international cultures. We in the U.S. need more news professionals like Ken who have this appreciation and who can communicate internally and externally in the proper context.

​Given his professional background, his personal qualities, his quest for knowledge and understanding and his passion for sharing what he knows Ken puts his advanced knowledge to use, influencing scores of other colleagues and hundreds of thousands of readers.
​
I have supervised more than 1,000 professionals in a 40-plus-year career as a newsroom leader. I am the former editor of The Denver Post, a former executive of Knight Ridder Inc. when it was the second-largest newspaper group in the U.S., a graduate of the Knight Ridder Executive Leadership program and the author of three books, including the textbook, Writing and Reporting the News as a Story (Pearson Publishing). For four years on the Knight Ridder corporate staff, I oversaw the company's training and development programs for newsroom professionals. For four more years I was part of the traveling faculty for the Committee of Concerned Journalists, training hundreds of newsroom professionals and also leading training at such universities as Harvard University, the University of Missouri and the University of Texas. For four more years yet I was an adjunct professor in the Communications Department at the University of North Florida.

All of that is to establish why I think Ken is likely to be an outstanding candidate for any organization.
Glenn Guzzo
, former Editor
​The Denver Post, Fort-Worth Star-Telegram
---
Ken Amos has spent his entire career observing, assessing and addressing the most pressing issues in the major markets where he has worked. He is a "new kind of communicator: one who is guided by ethics, who takes a strategic approach to using all of today's tools and who is passionate about using his or her skills to have an impact on the world".





Over the past 40 years, I have managed news media marketing and sales operations for major media organizations in Chicago, Los Angeles, Minneapolis and Washington, DC. Over the past two years, I have worked closely with Ken as a consultant assigned by corporate management to evaluate the digital and news reports of Times-Union Media.





In each news media company where I had senior management responsibility, I worked closely with excellent journalists and editors. One of the top journalists and editors that I have encountered is Ken Amos.

Ken has wide-ranging editor's experience at metropolitan news media organizations in Cincinnati, St. Louis, Orlando and Jacksonville. These are all major media operations owned by corporate leaders in the industry: Gannett, Tribune and Morris





Ken is a recognized leader in the world of digital news reports. Importantly, he was an early leader in the move to create dynamic valuable digital news reports…..while still maintaining respect for the exiting print audience of newspapers and magazines.





He is a graduate of The University of Central Missouri with concentration in public relations and Journalism. This background and his diverse assignments at news media companies have created an editor with a full spectrum of knowledge and ideas that not only creates news report, but understands how to create engagement for these companies.





Ken is one of the most skilled editors at bringing a balanced approach to evaluating complex news issues and gathering all information necessary to provide full report to audience.





In today's fast-paced society, comprehension of key stories is challenged by the speed at which audiences are exposed to content. Ken has been a leader in directing creation of valuable graphics, photography and video to help audience have a better understanding of stories and developments.





Ken is an excellent and accomplished teacher of younger journalists at every step along the way; Newspapers, Digital, Social, Magazines and public relations. And, he is just as effective teaching new skills to "old hands" who are still unsure about all the new media channels and how to effectively communicate through them. So, he creates important reports and improves journalism talent at the same time.





Ken is one of the best editors I have worked with at understanding the nuances that are found in effective communication tools and language across different societies.

Ken is also an outstanding citizen. His devotion to improving the outcome of education for young people is found in his selection to the Board of Directors of Partnership For Innovation In Education.

I highly recommend Ken Amos.
Thomas J. Culligan
, President
Culligan Partners
Media Marketing Consultants
---
I have had the pleasure of working with Ken since he came to The Florida Times-Union newsroom as its much needed

Managing Editor-Operations.



Ken confidently took charge of our Newsroom and quickly assessed the talent levels. He formulated plans to maximize and further develop existing talents – and confidently made new hires -- to best serve the needs and interests of our core audience.





He especially recognized the areas in which I excel – graphics and art -- helping me elevate my skills to create presentations that inform, stimulate and serve our readers. And he crafted and implemented a plan to nurture and accentuate my nascent writing abilities; and he effectively marketed the brand we created. Together, we filled a reader database to track reader interest and responses, which have been overwhelmingly favorable.



After working in a Newsroom environment for more than 45 years, I was thinking I had seen it all and done most of it, that is, until Ken's arrival. Never before have I had a manager who has taken such a serious personal interest in my abilities, my dreams and my goals.



From my vantage point, I believe wholeheartedly that Ken Amos would contribute greatly to any organization.
Steve Nelson
, Graphics Editor
The Florida Times-Union
---
I appreciate all the help Ken has given me in St. Augustine. I couldn't have done it without him!
​
Delinda Fogel
, Publisher
The St. Augustine Record
---
I
've had the pleasure of working with Kenneth on scripts and ideas for the TV spots done to promote Eco Latino and The Hispanic Art Walk in CW17, a local TV channel. His creativity and sense of humor were key in the success and quality of the commercials created. Also, he was always helpful with editing the Eco Latino Magazine's articles published in English."
Francisco Sefair,
General Manager
Eco Latino Magazine
---
I worked collaboratively with Ken Amos of The Florida Times-Union during a Journalist Exchange Program sponsored by the U.S. State Department and International Centre for Journalists. I found him to be conscientious, thought-provoking, friendly, innovative, brave and very hard working.

One of the main reasons that Mr. Kenneth Amos and I became successful coworkers on almost every project entrusted to us rested in his ability to delve into details. We have continued to work on topics related inter-religion harmony with a focus on harmony among civilizations and religions of the world.

In his role as my editor and mentor at the FT-U, he came across many challenges. Mr. Amos is a consummate multitasking individual who has ensured the efficacy of many projects because of his superior organizational skills. The reason for his success in meeting all these challenges head-on is his ability to chart and eliminate any limitations. He is never shy of helping others and offers constructive criticism quite well.
​


During the time that I have worked with Mr. Amos, I have had the opportunity to observe his interpersonal style. He is a pleasant individual who believes in positive motivation, and his staff is never dissatisfied under his supervision. I would describe him as a dedicated and enthusiastic individual who has a great penchant for meeting deadlines.
Waqas A. Khan,
Journalist, Educator & AttorneyPakistan Today

​I worked with Ken for Jack Magazine, a bi-weekly guide covering Jacksonville's Cultural Core. It was such a pleasure getting to work with him. From the very beginning, I admired his attention to detail and organizational skills. Throughout the launch process of the publication, Ken was thorough with what exactly he expected from me. He provided very impressive weekly color-coordinated spreadsheets, which outlined each issue's topic, job duties for each person and due dates. Ken taught me the process of editing content, along with tricks for Adobe Suite and formatting content before publication in Content Watch. Ken also encouraged me to write my very first article, and I'm very thankful for that. I hope to work with Ken again in the near future.
Samantha Arora, Classified Advertising Representative
Times-Union Media
---
From 2012-2013, Ken served on the Board of Directors for the Partnership for Innovation in Education (PIE), and he catalyzed and better defined our work in development and fundraising. Moreover, Ken is an excellent writer and journalist, and his work in "getting the word out," allowed PIE to better define our branding and communications strategy. In fact, we were awarded grants totaling $1.5M in 2013-2014 using much of the content derived from our branding and communication sessions.
Mary Welsh Schlueter
, CEO
Partnership for Innovation in Education
---
Ken is a talented senior manager with sound news judgment and street smarts. He is one of those rare 'go-to' people, stepping up with leadership when big stories break and stepping up with excellent project management skills when a big project is at stake. His work on an innovative 'Berliner' design for our 27 weekly newspapers (and two sister newspapers) was leading edge in the industry."
Tom Callinan
, Editor and Vice President, Enquirer Media
The Cincinnati Enquirer I worked with Ken at Enquirer Media in a variety of capacities. Most significantly, I reported to Ken during his last two years at The Enquirer in my role as copy-desk chief. Working for Ken was always challenging (in a good way) and highly rewarding. He has very high standards, he cared passionately about our mission (and our readers), and he led by example. Ken is a strong writer, editor, photographer and designer, and an even-handed and productive manager. He isn't afraid to delegate, yet is quick to roll up his sleeves and help out in a pinch. He gives credit where credit is due, and is generous with praise when merited. By the same token, he knows how to deliver measured and productive criticism when necessary. In his capacity as News/Operations Director, Ken was calm and collected in a crisis – whether directing major breaking news or dealing with serious internal issues. Ken is smart, personable, collegial, honest and always decent. He will be a success in any job he undertakes, and an asset to any company.
Sue Lancaster
, Copy Desk Chief
The Cincinnati Enquirer I have been associated with Ken Amos for the past six years working with him on various company initiatives. He has taken the lead on committees and projects throughout not only our newspaper, but also other Gannett papers as requested by management. He is professional, talented and most important he does what he says he will. I consider him an outstanding associate and a good friend.
Gary Osborne
, Director Information Technology,
The Cincinnati Enquirer Ken's array of skills as a leader, journalist and designer were on display regularly during the six-plus years I worked with him at The Cincinnati Enquirer. He tackled many complex and deadline-sensitive projects, not just for The Enquirer but for the Gannett Co. as a whole, including the industry-leading role as a designer for some of the first "Berliner-sized" newspapers. I also appreciated the countless ways he supported my efforts as Kentucky General Manager as we made significant gains in audience growth. He was a great colleague.
Dennis Hetzel
, NKY.com Manager & Kentucky General Manager
Enquirer Media, The Cincinnati EnquirerThere is very little that happens here at The Cincinnati Enquirer that escapes Ken Amos's notice, interest or concern. His dedication to this newspaper's improvement and its relevance to readers have no discernible endpoint. He is always thinking about what we can do better, but he also never fails to notice — and recognize — what we already do well. Ken is that interesting combination of an experienced newsman, an enthusiastic innovator and a strong mentor and manager of people. He knows this staff. He knows what people are capable of and how to bring out their best. He knows who needs a challenge, who needs a little truth-telling, and who needs a word of encouragement. He has an ear for language and an eye for photos and graphics. He writes well, edits well, designs well. He also manages well. He sees the structure of the news operations. He sees how things will come apart at the seams before they do, and he is strong enough and concerned enough to point out weaknesses and propose fixes. He is enthusiastic about new communication vehicles and approaches. He is a great consumer of information on The Enquirer's performance. He does his homework. He thinks critically. But he also knows when to trust his gut. Ken is a busy guy here and leaned upon heavily. Still, he always makes time to talk over story ideas, think over approaches, offer a word of encouragement and explain a decision. I would hate to think that I could have had a career in journalism and not crossed paths with Ken Amos. He makes me, my colleagues and this news organization better every day.
Krista Ramsey
,
Columnist,
The Cincinnati Enquirer I worked closely with Ken while in several different roles over the years. He has high standards and was always a good teammate. But what you should really know about Ken is this: Time and time again, the Enquirer organization (and Gannett) turned to Ken to manage complex projects -- some in Cincinnati, some at other newspapers. That speaks to his versatility and his ability to deliver. He has overseen design and production but never shies away from temporarily stepping into a new role when asked and coming through for the company.
Michael Perry
,
Life & Magazines Editor,
Enquirer Media Ken and I worked together for four-plus years on a multitude of projects, from elections to special sections to breaking news. He was always encouraging and a steady hand when it came to navigating the many different layers and constituencies when it came to projects.
He has an excellent eye for design, whether it be newspaper or magazine and is a very good manager when it comes to helping his employees become the best they can be.
Joe Reedy, News Design Editor
The Cincinnati Enquirer
I have known Ken Amos for 14 years, first as a co-worker and later as a friend. I gained respect for him as a colleague when we both worked at the Cincinnati Enquirer, where he led and empowered a talented team of graphic journalists. One of the best traits I learned about Ken is how he was able to juggle many balls and maintain good humor. Our readers didn't know it, but one of the reasons they were attracted to a particular front-page or found it easy to understand content featuring clear data visualization was because Ken's hand was in it. Ken is a visionary, who is able to imagine concepts in the abstract, then develop a concrete plan to allow those concepts to become tangible products. The result is often stellar multimedia design that hits its target and enhances the overall product, whether the product is a newspaper redesign or obscure statistics that have been illuminated by his creative ideas.

He is a real pro whose work is second to none.
Byron McCauley
, Associate Editorial Page Editor,

The Cincinnati Enquirer
​I worked with Ken for almost 10 years at The Cincinnati Enquirer. I was both a colleague and, for a short time, a direct report. Ken is a great editor of words as well as manager of projects. His newspaper design expertise was often called upon both at The Enquirer and at other Gannett newspapers. He was great at managing the big picture, but he also was unafraid to get into the nitty-gritty details of a story or a project. He would be an asset to any organization.
Bill Ferguson
, Deputy News Editor,
The Cincinnati Enquirer Ken Amos is one of the most gifted visual journalists I have ever met. But more than that, Ken is a gifted and insightful journalist, period. And his management style is very encouraging and collegial -- creating a team in what can be a cutthroat world of a newsroom. He was an invaluable mentor and resource to me, and I owe some of my best work to either his guidance or vision. I always knew Ken was in my corner as well -- and was my biggest cheerleader ... an inspirational leader.
James Pilcher
, Reporter
The Cincinnati Enquirer/Cincinnati.ComI've worked with Ken at The St. Louis Post-Dispatch, The Sporting News and at The Cincinnati Enquirer. At every stop, he has consistently been a professional and fair colleague, leader and mentor who has made myself and others better at our craft. Ken helped me think through my own design inclinations and offered sage advice during times of my own frequent indecision. He often suggested a vast array of ways to interpret assignments but made a point of not doing my thinking for me, which I now thank him for. He would encourage me to do my own research, rather than waiting for reporters. He even went with me on several assignments as I gradually learned to gather information for my informational graphics. He insisted that I think for myself, create the concepts and then choose the best of my artwork and words for eventual presentation. I have grown as an artist and as a journalist thanks in great part to his tutelage. He always seems to be encouraging others around him and me to be daring and creative. His intelligence, versatility and leadership skills are second to none.
Mike Nyerges
, Graphics Editor,
The Cincinnati EnquirerKen is a detail-oriented manager who allowed us to own our jobs - which made us more enthusiastic and efficient. He is encouraging, always found ways to help us meet our deadlines and is a team player who was ready to jump into the mix if necessary. Ken has an experienced eye for design, is continuously aware of the latest news and is thoughtful of the most friendly presentation for our readers. Ken is on top of the latest methods of sharing information and realizes that readers are looking for alternative ways of getting news. He encouraged his staff to promote those methods as much as possible. At the heart of his skills, he is a kind and generous manager, and he never forgot that people need to be happy and fulfilled. And he helped make that happen.
Stephanie Pross
Digital Content Producer,
Enquirer MediaKen is diligent hardworking and knowledgeable of every aspect of the operation that I have been involved with him on. He has outstanding management skills, and his ability and style is well respected by all who work with him.
Ben Boggess
, Assistant Managing Editor / Operations,
The Cincinnati Enquirer Ken Amos is a smart, creative and insightful news leader. I worked with Ken at The Cincinnati Enquirer for almost five years. Ken was an effective business partner who was focused on improving the readership of the newspaper. Ken led a team that successfully transformed the design and appeal of the newspaper. He was also asked by the Publisher to lead a task force to identify people issues in the newspaper, and make recommendations to the Executive Team. Ken's team worked hard and provided an excellent visual/audio presentation. His team's recommendations were approved and helped set a Human Capital Strategic Plan for several years. Ken works hard to provide growth and development opportunities for his team. He is a trusted leader. I would enjoy the opportunity to work with Ken again.
Ruben Montoya
, VP/Human Resources,
Gannett/The Cincinnati Enquirer Ken Amos is an accomplished project manager and designer whose keen sense of visual subtleties is complemented by excellent leadership skills and the ability to work within a framework of diverse and occasionally competing interests to produce an outstanding end-product.
Brian Schwaner
, Assistant Managing Editor/Business,
The Cincinnati Enquirer The most important thing I learned from Ken? Design everything as if it is going into your portfolio. That's his philosophy, and it shows in his products.
Wendell Robinson
, Senior Creative Artist,
The Cincinnati Enquirer
EXTERNAL ASSIGNMENTS FOR GANNETT
Ken and I worked together over a number of months to prototype and create the first daily Berliner, or compact newspaper, in North America. At the time, Ken worked for a sister newspaper but quickly learned about the newsroom staff, the Lafayette area and residents, and most importantly the newspaper's role in the community.
As an "outsider," Ken was greeted with some skepticism. But he worked hard to gain the confidence of newsroom staff — those who would be implementing the changes we were directing. He accomplished this with praise, humor and strong communication. Ken was a leader in helping us see and think differently about the new paper and its format. We incorporated his ideas into the new paper, which was very well received by our readership.
I welcome the opportunity to work with Ken again, or recommend him to someone who is looking for a seasoned, competent and creative professional.
Henry Howard,
Managing Editor Journal and Courier (Lafayette, Ind.)Ken's project leadership on The Times (Shreveport, La.) early redesigns was deliberate and careful. He was part of a series of coaches and leaders working on Berliner prototypes a few years back. He guided folks by working closely with the team, listening intently and using their own ideas to inspire them. He went above-and-beyond batting designs with copy editors and designers, taking late night calls, mounds of e-mails and presenting alternatives. His caring way had the staff saying, 'I'm so glad we have someone who understands what we do. This had an an immediate impact on our work.
Alan English,
Executive EditorThe Times (Shreveport, La.)To begin, thanks big time. We launched the new design changes Sunday and the reaction has been very positive — one person still wants the TV book back and won't care what we do until that happens, but that's to be expected. In general, though, it has been all positive. I'm very grateful for Ken's help, and we'll continue to tweak and improve, but given all that happened so quickly, I'm amazed. Ken was the key, the can-do guy and the one with the great ideas
Bob Gabordi,
Executive Editor
Tallahassee Democrat
I first met Ken when we both worked for Gannett and he came to the Tallahassee Democrat to help us with a design project. He offered fresh, innovative ideas and helped our team tremendously. What I like most about Ken is that he manages by elevating those around him and helping them do their best. He truly cares about his work and his team. His skills are top-notch, and he's fun to work with. He is a great colleague and friend.
Rebeccah Lutz
, Managing Editor
Tallahassee DemocratKen is professional and easy to work with. In the short time I've known him, I've learned much about my industry. He's been a huge asset to me professionally and personally. I worked closely with Ken on a redesign of our product. Needless to say project would have not been as big of a success as it was without Ken's influence.
Jeremy DeLuca,
Presentation Editor
Tallahassee Democrat
THE SPORTING NEWS
I worked with Ken for seven years at The Sporting News and found him to be a terrific colleague. He is talented, dedicated, and creative, and he applied his skills admirably to all the products we offered. Those years were a time of flux during which employees had to be flexible and adaptable. Ken not only has these talents, but he also is an innovator, constantly developing new ideas to deal with difficult times.
Steve Gietschier
, Managing Editor, Research,
The Sporting News Few can match the professionalism, creativity and management skills demonstrated by Ken Amos. As a colleague at The Sporting News, I found his energy and work ethic contagious. He consistently found new ways to present the common in uncommon ways which lead to the success of our publications and made all those working with him, feel appreciated. His ability to discover effective, creative solutions during chaotic deadlines is a valued attribute and example that all should follow.
Steve Levin
, Photo Editor,
The Sporting News I worked with Ken at The Sporting News and, before that, at The Orlando Sentinel. He is an outstanding editor with a flair for innovation and constantly pushes himself to break new ground, especially with graphics and display presentations. He has been an MVP manager and innovator everywhere he's worked, and in a variety of dynamic leadership roles. Ken has an impressive record in managing new projects and leading cross-team collaborations, and his commitment to excellence shows in everything he pursues. I could not recommend Ken Amos more highly for any organization that is looking for a brilliant mind and superior management skills. I don't know many people who operate and deliver on his level.
David Wisor
, Online Editor,
The Sporting News
THE ORLANDO SENTINEL
Ken Amos is one of the best deadline thinkers I've ever known. What first captured my attention was the enthusiasm and innovation with which Ken defined the look of the daily news. And, he could spell. He could think fast on his feet, and he got along well with others. Ken reported to me for nearly five years and was directly responsible for the Sentinel receiving many of its most prestigious awards — awards for news sections, sports sections, news pages, informational graphics. Ken's ideas and designs were everywhere. I can best sum up this newsman with a single tale. The United States and Iraq were rattling swords with deadlines threatening ... early evening, after my shift, shots were fired and war was a go ... by the time I had heard the news and made it back to our facility, Ken had the front page retooled complete with invasion graphics, photos edited and editions planned. Follow-up graphics, additional research, fresh art and later front-page display scenarios were in the works. The Art Department had even been reworked to an 18/7 schedule. When Ken saw me arrive too late for "the show," we had words, words I can't recall. But I do remember how effective he was, and how proud of us we all were the next day and the days and weeks thereafter -- because Ken is a really good newsman. He has a passion that at times burns so hot you'd swear he was about to be consumed by fire — a fire that I'd be proud to stand in. I think that highly of Ken Amos. He could have any job in my newsroom.
Mark Williams
, Editorial Art Director,
The Orlando Sentinel Ken and I worked together for the same manager at The Orlando Sentinel. I was the Supervisor for the Editorial Art Department and worked with Ken daily. His expertise and skills in the newsroom were without question and a great asset.
Jim Bostwick
, Editorial Systems Editor,
The Orlando Sentinel Ken deftly handled editing, page designs and complex project responsibilities, along with informational graphics for The Sentinel. Under daily deadline pressures, he was resourceful and creative, and he always did his best to keep all members of the desk involved to help create the best possible experiences in print for our readers.
Eva Ngai
, Copy Editor,
The Orlando Sentinel Ken is one of the most dedicated journalists I've had the pleasure of working with. Under Ken's guidance, I learned to be a tough, savvy editor who questioned everything and did it all for the reader. I still use these lessons today, and owe a big part of it to Ken and the lessons he imparted.
Dave Wersinger
, Graphics Editor,
The Orlando Sentinel
TODAY / FLORIDA TODAY
Ken and I were at the beginning of our journalism careers when we edited Gannett's daily TODAY newspaper in Cocoa, Fla. His calmness and dedication to accuracy, fairness and sound judgment in the face of tight deadlines, new technology and overwhelming breaking news built a professional role model for me then and he remains an inspiration now. He always gave the shift in front of him his best efforts and had a good time while doing so. I wholeheartedly recommend Kenneth as a significant contributor and/or company leader today.
Bryan Mingle
, Bureau chief / city desk copy editor,
TODAY
THE DAILY STAR-JOURNAL
Ken Amos is an outstanding news editor. He has a tremendous talent for coaching young writers, helping them to find interesting news hooks and develop stories that will grab and hold readers' attention. He also has an exceptional grasp of publication design, and what it takes to create material that is not only great to read but visually pleasing.
Jeff Murphy
, Reporter/Photographer,
The Daily Star-Journal