Let the journey begin ... again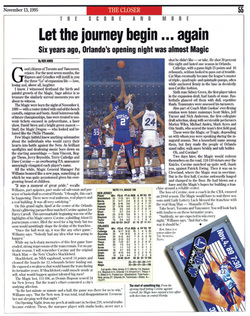 By Ken Amos
Senior Editor

THE SPORTING NEWS
Good citizens of Toronto and Vancouver, rejoice. For the next seven months, the
Raptors
and
Grizzlies
will instill in you the three "Ls" of expansion life — love, losing and, above all, laughter.
I know. I witnessed firsthand the birth and painful growth of the
Magic.
Sage advice is to treasure the similarly surreal moments you are about to witness.
The Magic were born the night of November 4, 1989 — with a roster dotted with end-of-the-bench castoffs, enigmas and busts. Amid boisterous talk of future championships, fans were treated to souvenir tickets encased in polyurethane, a laser show,
David Stern
and a bright green mascot --
Stuff, the Magic Dragon
, who looked and behaved like the
Phillie Phanatic
.
Few Magic faithful knew anything substantive about the individuals who would carry their hearts into battle against the Nets. As brilliant spotlights and deafening music bore down on the starting assemblage —
Sam Vincent
,
Reggie Theus
,
Jerry Reynolds
,
Terry Catledge
and
Dave Corzine
— an
overbearing P.A. announcer
annoyingly elongated each player's name.
All the while, Magic General Manager
Pat Williams
beamed like a new papa, something at which he was quite accustomed given his evergrowing brood of children.
"It was a moment of great pride," recalls Williams, part quipster, part snake-oil salesman and purveyor of basketball to central Florida. "I thought, this can't be happening. There were real uniforms, real players and a real building. It was all very satisfying."
On this grand night, tipoff at the center of the
Orlando Arena
's glittering parquet floor matched Corzine against
Joe Barry Carroll
. This unremarkable beginning was one of the highlights of his Magic career. Corzine, a plodding, 6-foot-11 journeyman center, filled the need for a big body but too soon would unwittingly shape the destiny of the franchise.
"Once the ball went up, it was like any other game," Williams says. "Nobody had any idea what was going to happen."
While my tack-sharp memories of this first game have eroded, strong impressions of the team remain. For no particular reason, I will remember Corzine and the original Shack Man -- the
Nets'
Charles Shackleford
.
Shackleford, an NBA vagabond, scored 14 points and cleaned the boards for 12 rebounds. before fouling out. He exposed a weakness that would haunt the team during its formative years. If Shackleford could muscle inside at will, what would happen against talented big men?
The Magic lost, 111-106, as
Dennis Hopson
scored 24 for New Jersey. But the team's effort cemented a city's undying affection.
"In the last minute or minute and a half, the game was there for us to win," Williams says. "But the Nets won. It was total, total disappointment. I remember not sleeping well that night."
On Opening Night, from my perch at midcourt in Section 219, several truths became evident. Theus, the marquee player with studio looks, never met a shot he didn't like — or take. He shot 30 percent this night and lasted one season in Orlando.
Catledge, who scored the first Magic field goal and finished with a game-high 25 points and 16 rebounds, seldom looked to pass out of trouble. Cat Man eventually became the league's master of triple-, quadruple- and quintuple-pumps, often while anchored firmly in the lane in decidedly non-Cat-like fashion.
Sixth man
Sidney Green
, the first player taken in the expansion draft, had hands of stone. Basketballs glanced off them with dull, repetitive thuds. Teammates were assessed his turnovers.
Also part of Coach
Matt Guokas
' ever-flexing rotation were future mainstays
Scott Skiles
,
Jeff Turner
and
Nick Anderson
, the first collegiate draft selection, along with serviceable performers
Otis Smith
,
Morlon Wiley
,
Michael Ansley
and
Mark Acres
.
These were the Magic, or Tragic, depending on with whom you were speaking during the inaugural season. Not a household name among them, but they made the people of Orlando stand taller, walk more briskly and talk bolder.
Oh, and Corzine?
Two days later, the Magic would redeem themselves on the road, 118-110 victors over the
Knicks
. Corzine matched up quite well, thank you, against
Patrick Ewing
. Then it was on to Cleveland, where the Magic won in overtime. But in the first half, Corzine awkwardly lunged and slumped to the floor. He had blown out a knee and the Magic's hopes for building a franchise around a reliable center.
The loss of Corzine, now a coach in the CBA, ensured an 18-64 season. The Magic would have to wait three seasons until Lady
Lottery
Luck blessed the franchise with the real Shaq Man --
Shaquille O'Neal
.
Take heart Toronto and Vancouver.
"Suddenly, we are expected to win every night, "Williams says. "And that's the way it should be."