CENTRAL MISSOURI STATE UNIVERSITY
(Warrensburg, Mo.)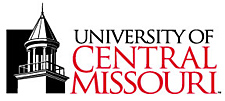 Bachelor of Science, Public Relations
Twin minors in Journalism and Speech Communications.
While pursuing my studies, I served as a student News Bureau Manager (sophomore and junior years) and the university's full-time Sports Information Director (senior year) within the university's Public Relations Department.
Contributed to student newspaper, The Muleskinner, and yearbook, The Rhetor.
Handled play-by-play for football, basketball and baseball for campus radio and television stations.
Television technical director, audio board operator, host, studio technician, lighting director and floor manager.