Comments from The Sporting News' Assistant Managing Editor Mike Nahrstadt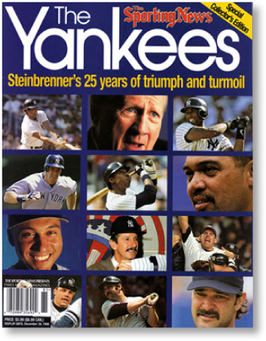 "I finally carved out the time to read much of "The Yankees" one-shot that you produced.

"You did a GREAT job.

"It was well-organized. It was thorough. It was serious and yet celebratory. It was very well-edited. I found very few typos or grammatical mistakes in the stories, and I didn't notice any glaring holes in the stories.

"The story selection was terrific. You covered seemingly every major personality and game during the Steinbrenner era. And it looked very nice. You obviously poured your heart and soul into the execution of the project, and the result was worthy of that effort.

"You should be PROUD of your work.

Your piece on Munson: Outstanding! Ken, you really captured the essence of the man. It was a compelling story, start to finish. And it was my favorite piece in the magazine.

"That's it. I can't imagine a Yankees fan buying this and being disappointed.

You did a WONDERFUL job.

Congratulations!